Mushroom Onion Quiche
February 27, 2014
As I mentioned yesterday, Sunday brunch is one of my favorite meals. It's not so much about what's served (although who doesn't like traditional brunch foods?!) as it is about the calm and relaxation of a Sunday morning spent with friends and family without the rush of a weekday meal. Now that we have kids, Sunday brunch isn't the same as it used to be, but there are some brunch recipes that can easily be made – and with the help of your kids, as you saw in yesterday's video – so you can still enjoy the weekend before the hustle and bustle of a new week begins.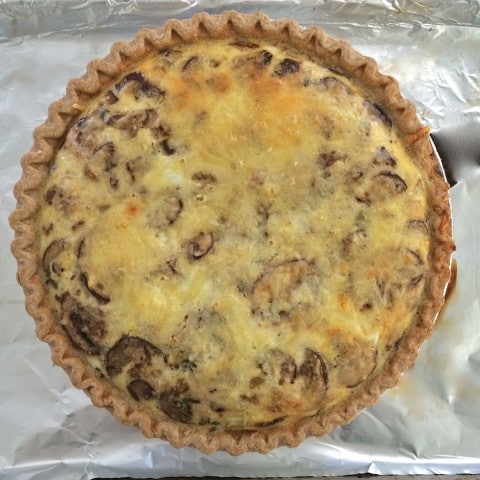 Years ago I found this Caramelized Onion, Mushroom, and Gruyere Quiche recipe from fellow dietitian Ellie Krieger and over the years I have tweaked it a bit, often depending on what ingredients I have on hand. Whether you follow the recipe it to a tee or make your own modifications, I am sure you will be happy with the end result – especially once you see how much your kids love it too!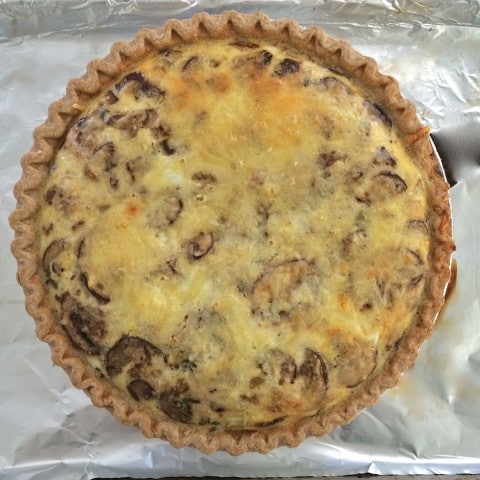 Mushroom Onion Quiche
Total Time:
1 hour
10 minutes
This quiche is a protein-filled addition to brunch and can also be enjoyed for lunch or dinner with a side salad.
Vegetarian, Nut-Free, Kosher
Ingredients
1 9-10 " whole wheat pie shell
2-3 teaspoons olive oil
1 large onion, sliced thinly into half moons
8 ounces sliced mushrooms
1/2 teaspoon salt
Freshly ground black pepper
1 tablespoon grainy Dijon mustard
1 tablespoon chopped fresh thyme leaves, or 1 teaspoon dry
6 large eggs
1 cup evaporated fat-free milk, not condensed milk or 1% low-fat milk
1 cup grated Gruyere or shredded Parmesan cheese, or other cheese of choice
Instructions
Preheat oven to 350 degrees F. Place pie shell on a foil-lined baking sheet and set aside.
Heat 2 teaspoons of oil in a large pan over medium-high heat. Add the onion and cook, stirring often, until translucent and starting to brown, about 5-8 minutes. Add the mushrooms to the pan along with the remaining teaspoon of oil if your pan is too dry. Cook the mushrooms and onions until they begin to brown and the water from the mushrooms has mostly evaporated, about 6 minutes. Stir in the salt, pepper, mustard, and thyme. Remove from the heat and set aside.
In a medium bowl whisk together the eggs and evaporated or 1% milk.
Sprinkle 3/4 cup of cheese into the pie shell. Top with the mushroom-onion mixture and pour the egg mixture on top. Sprinkle remaining 1/4 cup cheese on top. Bake for 35-40 minutes, until a knife or toothpick inserted in the middle comes out clean. Let stand for 5 minutes before cutting into 8 wedges and serving.
Notes
Your kids can help with the following, depending on their age:
- measuring out ingredients
- cracking eggs
- whisking eggs and milk
- sprinkling cheese into crust and on top of eggs
- adding mushroom-onion mixture to pie shell and spreading them in shell
Recommended Products
As an Amazon Associate and member of other affiliate programs, I earn from qualifying purchases.
What's your favorite Sunday brunch recipe?