Vegetable Matzo Lasagna
March 28, 2021
Tired of matzo pizza on Passover? Try something slightly different. This Vegetable Matzo Lasagna is comforting and nutritious all at once!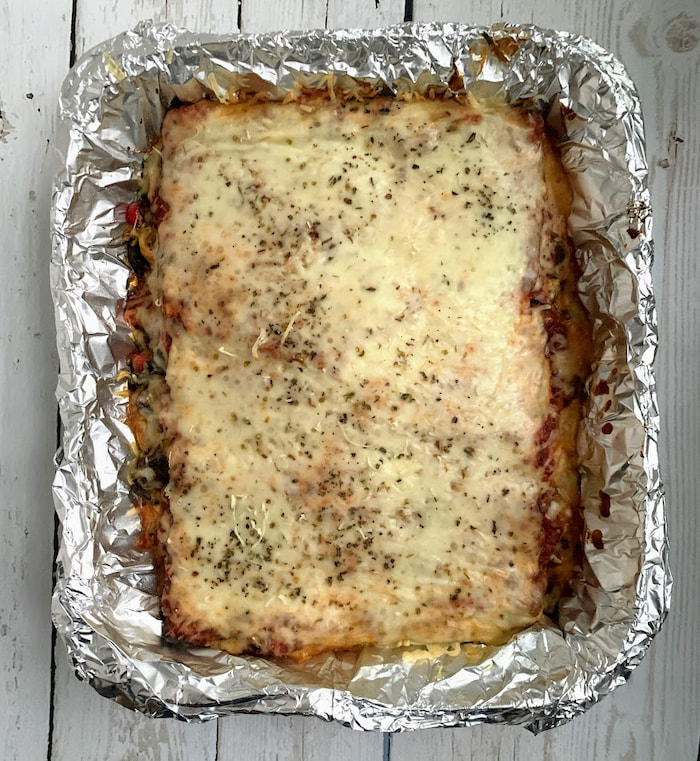 The Jewish holiday of Passover causes many people to get into a frenzy about what they're going to eat. How can they go a whole week without bread, pasta, cereal, oatmeal, and all their other favorite carbs?! I for one don't get so stressed out about it – there are still so many foods to choose from and it's just one week people!
I can't tell you how many times I hear people say that all their kids eat during the week of Passover is matzo pizza. I get it – it's kid-friendly, easy, and tastes good. But there's more to do with matzo than just make a simple plain cheese pizza.
Lasagna isn't a far cry from pizza, but it puts cheese and sauce into a different form and when you add vegetables to it you have a more satiating and nutrient-rich meal. I've been making this Vegetable Matzo Lasagna for years and it's always a hit. Sometimes I add more or different veggies, but the recipe below is my basic starting point.
If you're looking for more Kosher for Passover recipes, be sure to check out my roundup of 60+ Healthy & Delicious Passover Recipes – you may be surprised how much there is to eat on this holiday!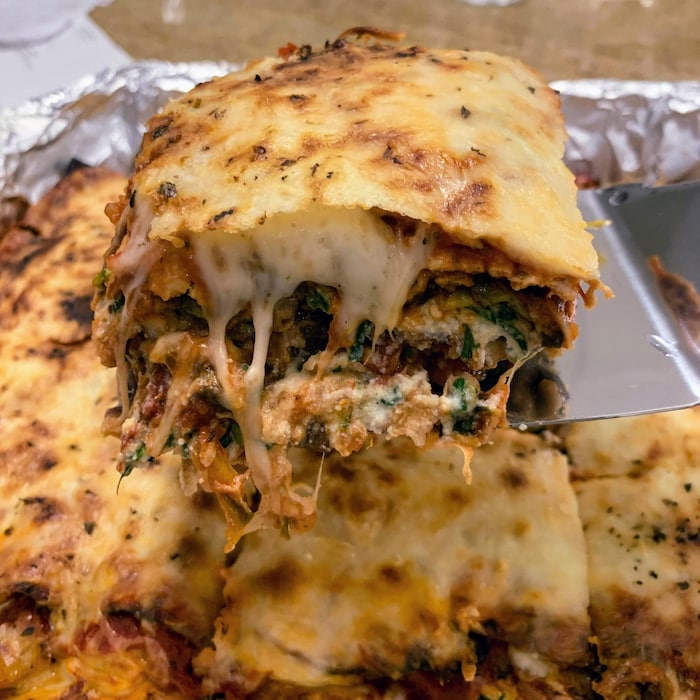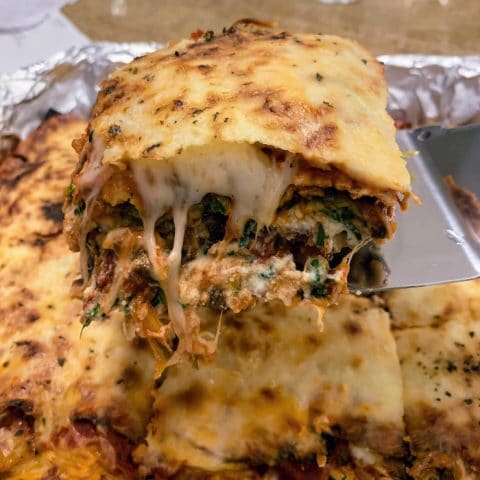 Vegetable Matzo Lasagna
Total Time:
1 hour
15 minutes
Take a break from matzo pizza this Passover and try this veggie-packed matzo lasagna instead. Prefer different veggies? Swap in your favorites!
Vegetarian, Egg-Free, Kosher
Ingredients
2 bell peppers, diced
4 ounces mushrooms, diced
One 15-ounce container part-skim ricotta cheese
One 10-ounce box frozen spinach, defrosted and drained well
Salt and pepper, to taste
4 to 6 square whole wheat matzo, slightly wet but not falling apart
One 26-ounce jar tomato sauce
16 ounces shredded mozzarella cheese
Dried basil and oregano, to taste
Instructions
Preheat oven to 350 degrees F and coat a 9" x 13" baking pan with cooking spray.
Coat a medium skillet with olive oil and place over medium high heat. When the oil is hot, add peppers and mushrooms and saute, stirring occasionally until the vegetables are cooked.
Meanwhile, in a medium mixing bowl, combine the ricotta and spinach. Mix well and season with salt and pepper to taste.
Coat the bottom of the prepared baking pan with a layer of tomato sauce.
Place 1 1/2 to 2 matzos in the pan and top with half of the ricotta and spinach mixture, a layer of vegetables, 1/3 of the jar of sauce, and a layer of mozzarella cheese. Season with basil and oregano.
Repeat step 5 with another 1 1/2 to 2 matzos, the remaining ricotta and spinach mixture, the remaining vegetables, 1/3 of the tomato sauce, and mozzarella. Season with basil and oregano.
Top the second layer with the last 1 1/2 to 2 matzos, the remaining tomato sauce, and mozzarella. Season with basil and oregano.
Cover with foil and bake 45 minutes. Uncover and bake and additional 15 minutes. Serve hot.
Recommended Products
As an Amazon Associate and member of other affiliate programs, I earn from qualifying purchases.
Nutrition Information:
Yield:

12
Serving Size:

1
Amount Per Serving:
Calories:

517
Total Fat:

13g
Saturated Fat:

6g
Trans Fat:

0g
Unsaturated Fat:

4g
Cholesterol:

36mg
Sodium:

657mg
Carbohydrates:

78g
Fiber:

14g
Sugar:

5g
Protein:

30g
Nutrition information was calculated by Nutritionix. It may not be 100% accurate.