Thai Rice Noodle Salad {Recipe}
July 10, 2013
Traditional Thai recipes use many different herbs, spices, sauces, pastes, and condiments to achieve a variety of sweet, salty, sour, and spicy flavors. Some of my favorites are ginger, cumin, cilantro, mint, chili, curry powder, coconut milk, fish sauce, lime, and soy sauce. Many of these ingredients are used in my recent Coconut-Lime Chicken recipe, so when trying to figure out what to make as a side dish I decided to go with a rice noodle dish that contained vegetables and more of the delicious Thai flavors. Rice vermicelli noodles are a staple in Thai cuisine, often added to soups and curries, but also used for light salads. Along with the coconut-lime chicken, the noodles and vegetable balance the plate perfectly – you have your lean protein, carbohydrates, and vegetables, with healthy fat dispersed throughout.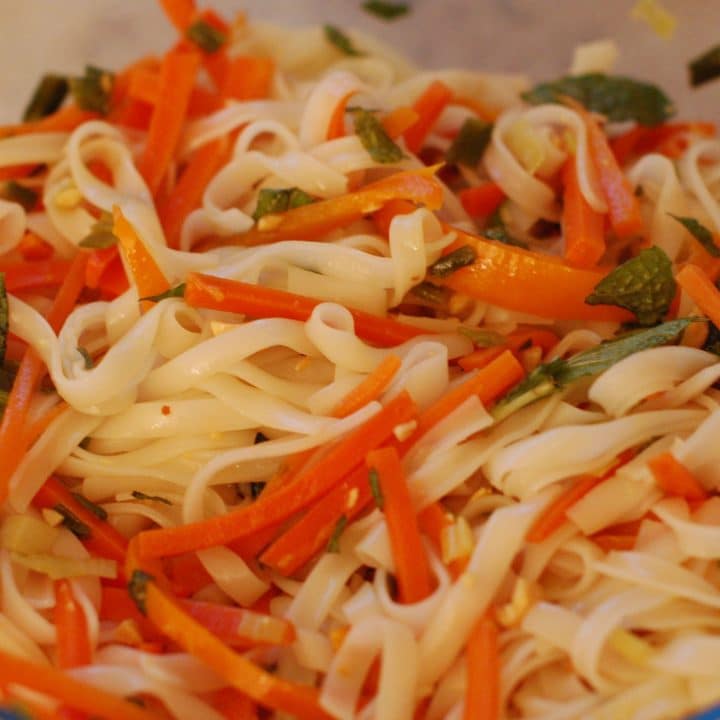 Thai Rice Noodle Salad (adapted from Rice Noodles with Scallions and Herbs)
Ingredients
8 ounces rice vermicelli
1/2 cup water
1/4 cup fish sauce
3 tablespoons fresh lime juice
2 tablespoons packed brown sugar
Dash chili flakes
2 tablespoons olive oil
1 garlic clove, minced
4 scallions, thinly sliced
1 bell pepper, julienned
2 carrots, julienned
1/4 cup fresh mint, torn into small pieces
1/4 cup peanuts, chopped and toasted
Instructions
Bring a pot of water to boil. Add rice vermicelli noodles and cook, stirring occasionally, until tender but not mushy, about 4 minutes. Drain and rinse under cold water. Let vermicelli drain in colander for about 30 minutes, tossing occasionally so it doesn't stick.
In a measuring cup, combine water, fish sauce, lime juice, brown sugar, and chili flakes.
Heat oil in a medium skillet over medium heat. Add garlic and scallions and cook 2 to 3 minutes. Add peppers and carrots and saute until tender, about 4 to 5 minutes.
Toss garlic, scallions, and vegetables with noodles in a serving bowl. Toss with sauce and top with mint and peanuts.
Notes
30 minutes of the cook time is rest.
Nutrition note about rice noodles: Like semolina pasta, rice noodles are high in carbohydrates and do not contain much, if any, dietary fiber unless you buy whole grain (which are now available). Since they are gluten-free, they are a great option for those who cannot tolerate gluten. As always, keep portion sizes in mind. 
 Do you like Thai food? What are your favorite Thai flavors?