Shakshuka for Dinner
May 23, 2013
Shakshuka!
Isn't that such a fun word to say?! If you're not sure, here's how it's pronounced: shahk-SHOO-kah. You're probably wondering what in the world this word is and what does it mean. Shakshuka is a very popular Israeli breakfast dish composed of eggs poached in a spicy tomato sauce. In hebrew, the word shakshuka means "all mixed up" and some say that the name of the dish comes from the Hebrew verb leshakshek, "to shake." I love tomato sauce and with my newfound liking of eggs I decided it was time for me to make this dish at home.
I couldn't leave well enough alone and use the most basic shakshuka recipe; instead, I came across a few recipes I liked, including Gail Simmons' version and one by David Lebovitz, and combined them to make my own version. Since tomatoes aren't in season yet, I used boxed Pomi tomatoes and added a few other veggies to make a more balanced, filling meal. I served the shakshuka with a loaf of bakery-fresh whole grain bread and an arugula fennel salad.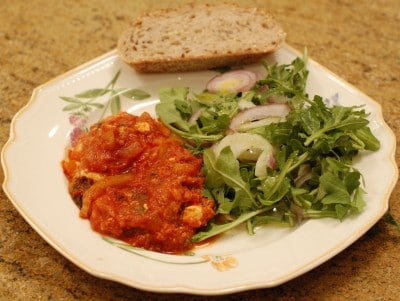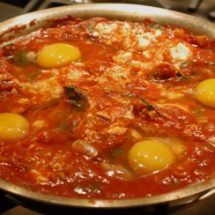 Ingredients
2

tablespoons

olive oil

1

medium onion

diced

1

fennel bulb

cored and thinly sliced

1

chile pepper

seeded and finely chopped

1

yellow bell pepper

diced

Kosher salt and freshly ground pepper

3

garlic cloves

minced

1

teaspoon

ground cumin

1/2

teaspoon

turmeric

1

teaspoon

sweet paprika

28

ounces

diced or crushed tomatoes

2

tablespoons

tomato paste

2

teaspoons

honey

1

teaspoon

cider vinegar

1

cup

loosely packed Swiss chard

coarsely chopped

1

cup

crumbled feta

4

large eggs
Instructions
In a large skillet, heat the oil. Add the onion and fennel and cook over moderately high heat, stirring, until softened, 3 minutes. Add chile pepper and bell pepper and season with salt and pepper. Cook over moderate heat, stirring, until softened, about 8 minutes. Add the garlic, cumin, turmeric, and paprika and cook, stirring, until fragrant, 1 minute.

Add the tomatoes, tomato paste, honey, and vinegar, reduce the heat to medium, and cook for 12 to 15 minutes, or until the sauce has thickened somewhat. Stir in the chopped Swiss chard.

Turn off the heat and press the crumbled feta into the tomato sauce. With the back of a spoon, make 4 indentations in the sauce. Crack an egg into each indentation, then drag a spatula gently through the egg whites, being careful not to disturb the yolks.

Turn the heat back on and gently simmer the sauce for about 10 minutes, taking some of the tomato sauce and basting the egg whites from time-to-time. Cover, and cook another 3 to 5 minutes, until the eggs are cooked to your liking.
Have you ever had shakshuka? Do you have a favorite egg dish from another cuisine?