Spinach Salad with Jicama, Black Beans, and Lime Vinaigrette
July 14, 2016
Find out why jicama is so good for you and enjoy it in this quick, easy, and delicious spinach salad.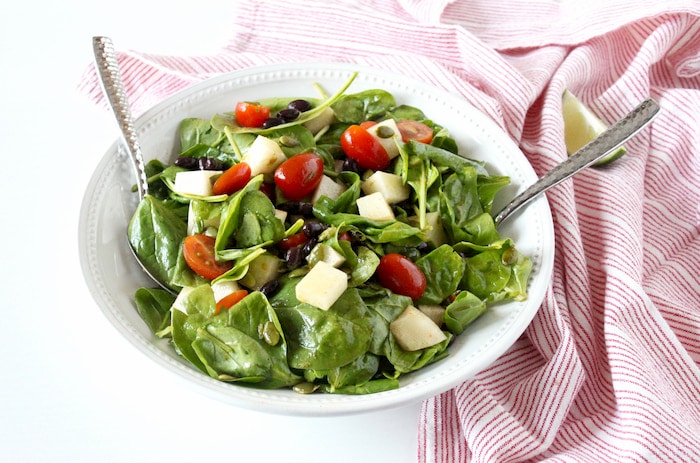 When you serve tacos on Tuesday nights, do you have a go-to veggie to serve on the side? If not, then this Spinach Salad with Jicama recipe is for you!
What is Jicama?
Have you heard of jicama? Pronounced HIK-uh-muh, this Mexican yam or turnip is a root vegetable with a brown, papery exterior and a white crisp interior. It may not look so interesting or appealing from the outside, but trust me when I tell you it is quite delicious on the inside, and in this spinach salad with jicama and black beans.
Jicama is a crunchy vegetable with a slightly sweet, nutty flavor. It's sort of a cross between a potato and an apple or Asian pear, although not quite as sweet. In fact some people find jicama a little bland, but when paired with the right ingredients it's most definitely not!
How to Enjoy Jicama
Jicama is most commonly eaten raw in salads, slaws, or added to a crudite platter. Jicama sticks or chips are a delicious and healthy replacement for traditional chips to scoop up guacamole. Jicama can also be the star of the salad show like it is in this Avocado, Jicama, and Cucumber Salad and Grilled Pineapple, Black Bean, and Jicama Salad.
As you can see, jicama pairs very nicely with Mexican flavors, which is why the spinach salad with jicama below is my go-to side dish any night I make a Mexican-themed dinner like fish tacos or my Sweet Potato Black Bean Quesadillas.
You can also cook jicama, although I have yet to try that out. Stir fries are a great place to incorporate this root veggie since it stays crunchy and absorbs flavor. I bet it would also be good sautéed with peppers and onions for fajita night!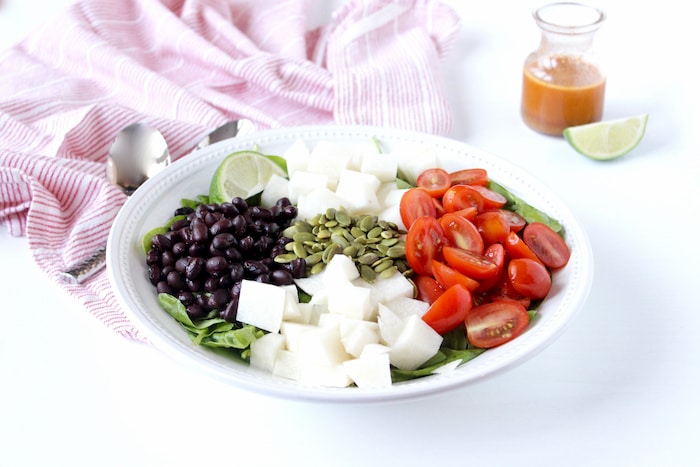 Nutritional Benefits of Jicama
Nutritionally, jicama is low in calories and an excellent source of fiber and vitamin C – one cup has less than 50 calories, 25% of your daily fiber and 40% of your daily vitamin C needs! The soluble fiber inulin is what accounts for jicama's stellar fiber status and its health benefits, which include (1) protecting against osteoporosis by helping the body absorb calcium and (2) acting as a prebiotic to promote "good" bacteria growth in your digestive tract. (You can learn more about prebiotics in this post from Kelli at Hungry Hobby.)
How to Prepare Jicama
Now, back to using jicama in the kitchen. I used to peel the papery skin of jicama with a vegetable peeler, but I learned over the years that this was not the most efficient technique. Instead, the best way to peel jicama is with a chef's knife. Uncut jicama will last in the fridge for about two weeks and cut jicama will last for a few days. And don't worry about browning – this veggie will retain the same creamy white color even once it's cut.
As I mentioned, this Spinach Salad with Jicama, Black Beans, and Lime Vinaigrette is my go-to Mexican night side dish. I first shared this recipe back in 2013, but it has since been updated with a few tweaks to the recipe. I hope you give it a try and enjoy jicama as much as I do!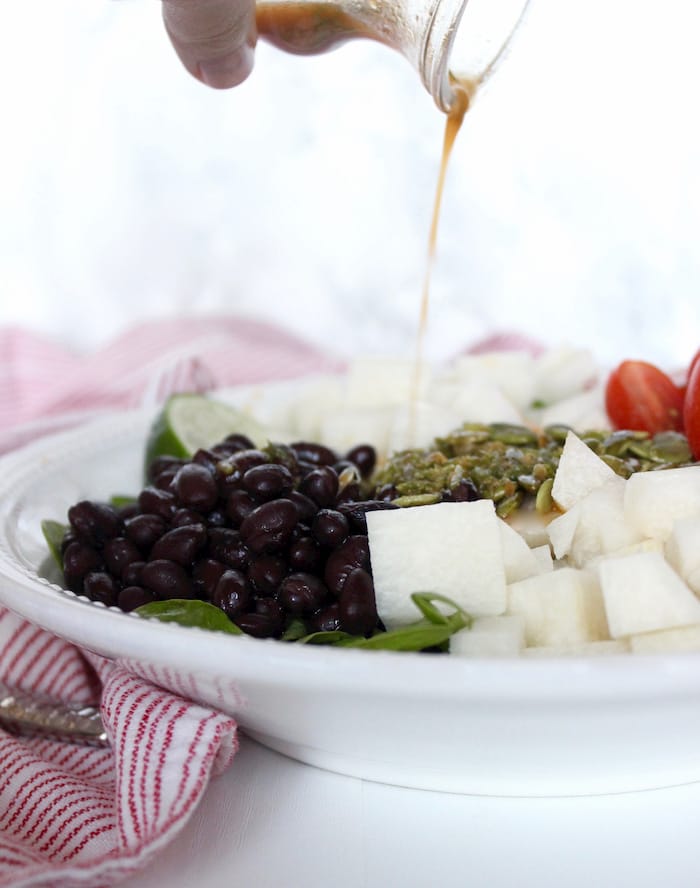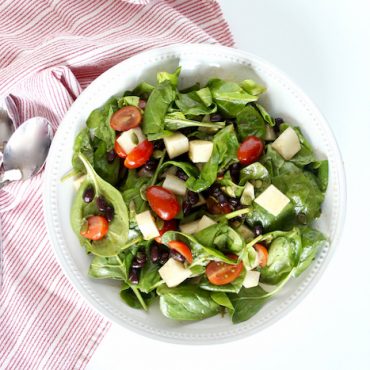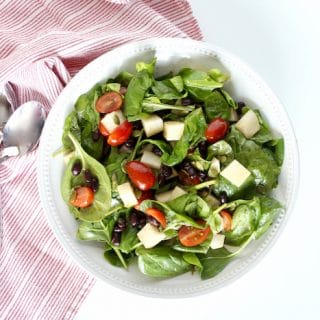 Spinach Salad with Jicama, Black Beans, and Lime Vinaigrette
Crisp spinach, crunchy jicama, juicy tomatoes and tender black beans are tossed with a smoky lime vinaigrette in this quick and easy side salad that's the perfect accompaniment to your favorite Mexican-inspired dinner.
Vegan, Dairy-Free, Gluten-Free, Nut-Free, Kosher
Ingredients
One 5-ounce bag baby spinach
1 small jícama, peeled and cubed
1 cup no-salt added black beans, rinsed and drained
1 cup cherry tomatoes, halved
2 tablespoons pumpkin seeds (optional)
For the dressing:
1/4 cup olive oil
2 limes, zested and juiced
1/2 teaspoon ground cumin
1/2 teaspoon chili powder
1/2 teaspoon Kosher salt
Instructions
In a large salad bowl, combine the spinach, jícama, black beans, tomatoes, and pumpkin seeds (if using).
In a measuring cup or small mixing bowl, whisk together the olive oil, lime zest, lime juice, cumin, chili powder, and salt.
Pour the dressing over the salad and toss to coat. Enjoy!
Recommended Products
As an Amazon Associate and member of other affiliate programs, I earn from qualifying purchases.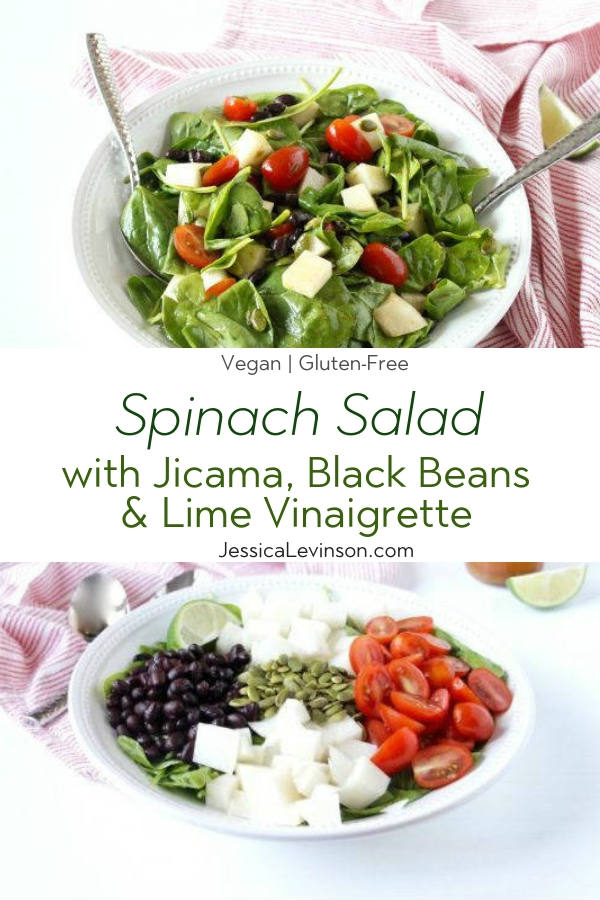 Have you ever tried jícama?
How do you like it prepared?
Share with me in the comments below!
This post originally appeared in January 2013.