Romantic Dinner for Two: Mushroom Farrotto
April 18, 2013
Celebrating an anniversary, birthday, or just the love that you share with someone special? You don't have to spend money going out to a fancy dinner for every occasion. Sometimes it's nice to make a romantic dinner for two in your own home. Set the mood with dim lighting, candles, some romantic music, and a Nutritioulicious meal that will knock the socks off of your partner. That's what I did this past February for Valentine's Day, which was so much better than sitting at a restaurant among two-tops with cheesy decor and everyone eating the same prix-fixed menu. Valentine's Day won't be here for another 10 months, but don't wait until then to make this meal for your loved one.
The meal: Spinach Pear Salad with Goat Cheese & Mushroom Farrotto
The spinach salad was delish – I'll share that recipe another time. But for now, I want to focus on the pièce de résistance!
Farrotto is a spin on risotto, a classic Italian rice dish that is creamy, savory, and delicious. Instead of using rice, I used farro, an ancient grain in the wheat family (along with einkorn and bulgur). Farro has become one of my go-to grains recently – it's high in fiber and protein and low sodium. I use the Tuscan Fields brand of farro, which comes in different varieties including Farro Perlato (plain), Farro alle Verdure (farro blended with organic dried tomato, onion, parsley, garlic, bell pepper), and Farro ai Funghi (farro blended with organic dried Porcini Mushrooms, carrots, onion, parsley, garlic). Usually I find that packaged grains with additional ingredients are very high in sodium, so I was pleasantly surprised that was not the case with the Tuscan Fields brand. For this recipe, I used the Farro Perlato because I was adding so many other ingredients and flavors to the meal.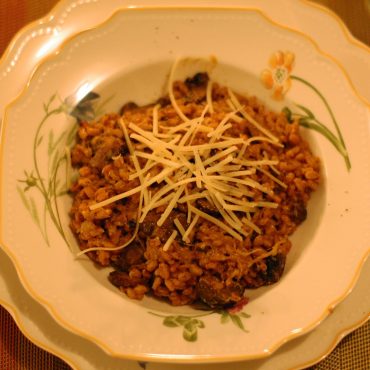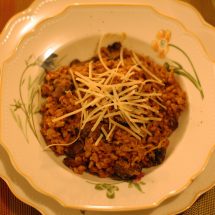 Total Time
1
hour
10
minutes
Ingredients
6

cups

low-sodium vegetable broth

1

tablespoon

extra-virgin olive oil

2

shallots

minced

1

large clove garlic

minced

2

cups

uncooked farro

10

ounces

sliced mushrooms

¾

teaspoon

salt

divided

½

cup

dry white wine

1

tablespoon

chopped fresh rosemary

1

cup

grated parmesan
Instructions
in a small saucepan, bring vegetable stock to a simmer (do not boil). Keep stock warm over low heat.

Heat a large saucepan over medium heat. Add oil to pan; swirl to coat. Add the shallots and garlic and cook over moderate heat, stirring until softened, about 2 minutes. Add the farro and cook, stirring for 5 minutes. Add the mushrooms and 1/2 teaspoon salt; sauté 5 minutes or until mushrooms are tender, stirring occasionally. Add wine and rosemary; cook until liquid almost evaporates.

Add 1 cup stock to farro mixture; cook over medium heat 4 minutes or until the liquid is nearly absorbed, stirring occasionally. Add 5 cups stock, 1/2 cup at a time, stirring occasionally until each portion of stock is absorbed before adding the next (about 40 minutes total).

Add remaining 1/4 teaspoon salt, cheese and pepper; stir until cheese melts.
Dinner was a hit and we didn't miss being in a restaurant one bit. If you haven't tried farrotto, I highly recommend you do – either at a restaurant (I've seen it on a few menus over the past few years) or try your hand at making it at home.
What's a romantic dinner you make for your special someone?
Disclaimer: I received samples of Tuscan Fields farro, but was not compensated for this post. All opinions are my own.