Moroccan-Inspired Quinoa-Stuffed Cornish Hens
April 9, 2015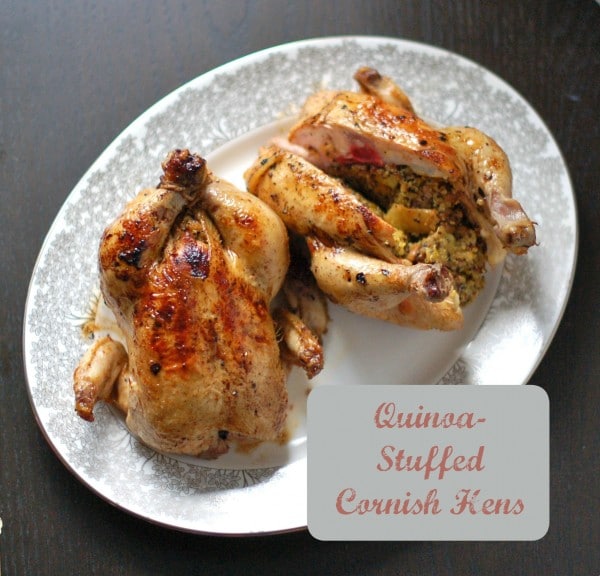 Wow your guests with this elegantly presented Moroccan-inspired cornish hen stuffed with aromatic and flavorful quinoa.
When entertaining, serving buffet style is a pretty easy way to go and it offers lots of benefits. Your dining room stays cleaner as you avoid bowls and plates of food being passed around, guests can mingle as they walk around the buffet to fill their plates, and from a nutritional standpoint you're less likely to overeat since the food isn't sitting on the table right in front of you.
But sometimes it's nice to serve a sit-down dinner that's elegant and more refined. That's where stuffed cornish hens come in. Depending on their size, a cornish hen can feed one or two people, and with the stuffing already inside the bird you have a balanced plate all in one.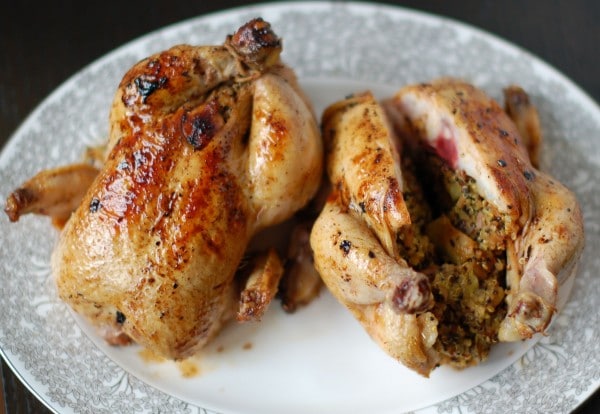 I originally shared this recipe, an adaptation of Food & Wine's Couscous-Stuffed Cornish Hens, on my blog back in 2011. Every year since, it has been included on my list of Passover-Friendly Recipes because quinoa is one of the few grains that is Kosher for Passover and it's a little more gourmet than most of the traditional Passover recipes. (Did you see my post about Passover going gourmet?)
As I was updating the list of Passover recipes for this year I felt it was about time I made this recipe again, this time with a few tweaks to the original and with some new and improved photos.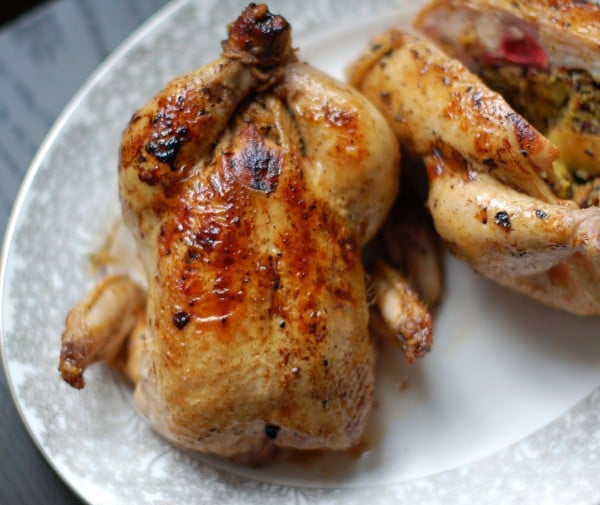 The original recipe has cinnamon and dried apricots, which add a Moroccan flavor that I embellished with turmeric, paprika, dried plums, and fennel. (I was also planning to add cumin, but according to some it is not Kosher for Passover.) The quinoa is so flavorful and delicious that it can be made as a side dish on it's own as well.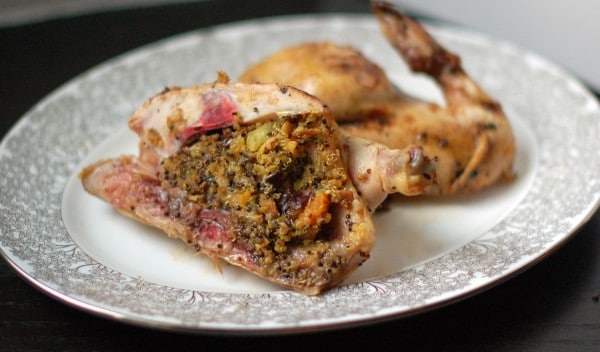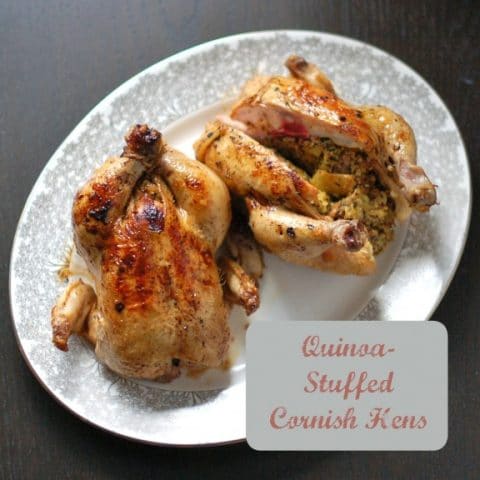 Quinoa-Stuffed Cornish Hens
Total Time:
1 hour
15 minutes
Cornish hen stuffed with aromatic and flavorful Moroccan-inspired quinoa is an elegant main dish to serve at your next dinner party.
Gluten-Free, Egg-Free, Kosher
Ingredients
For the Quinoa:
1 cup dry quinoa, rinsed and drained
2 cups low-sodium chicken or vegetable broth
1/2 cup slivered almonds
1 tablespoon olive oil
1 cup diced yellow onion
1 cup sliced fennel (~1/2 inch slices)
1 tablespoon minced garlic
1/2 teaspoon ground turmeric
1/2 teaspoon ground cinnamon
1 teaspoon sherry vinegar
1/2 cup dried apricots, chopped
1/2 cup dried plums, chopped
1 tablespoon honey
1 tablespoon lemon juice
1/4 teaspoon Kosher salt
Fresh-ground black pepper
For the Cornish Hens:
4 Cornish hens
2 tablespoons olive oil
1 teaspoon paprika
2 tablespoons lemon juice, divided
1 tablespoon honey + 1 teaspoon for sauce
Fresh-ground black pepper
1/4 cup dry white wine or broth
Instructions
Heat oven to 425 degrees F.
In a small saucepan, bring the quinoa and broth to a boil. Reduce heat, cover, and simmer for about 15 minutes or until all the broth is absorbed. Transfer to a large mixing bowl and set aside.
While the quinoa is cooking, toast almonds in a dry skillet, 3-4 minutes; set aside.
Heat olive oil in skillet over medium-high heat, add onions and saute until translucent, about 2-3 minutes.* Add fennel and saute 3-4 minutes until caramelizing and golden brown. Add garlic and spices and stir until fragrant, about 30 seconds. Add sherry vinegar to deglaze the pan, scraping up browned bits from the bottom of the pan.
Transfer mixture to the bowl with the quinoa and stir to combine. Add the toasted almonds, dried fruit, honey, lemon juice, Kosher salt, and pepper to taste. Fold all the ingredients together.
Fill the cavities of the hens with the quinoa mixture. (Set aside any remaining stuffing to serve on the side.) Twist the wings of the hens behind their backs, and tie the legs together if necessary to prevent quinoa from spilling out. Place hens breast-side up in a roasting pan.
In a small bowl, whisk together the olive oil, paprika, 1 tablespoon lemon juice, and 1 tablespoon honey. Coat the hens with the mixture, drizzle with remaining lemon juice, and sprinkle with freshly ground pepper. Pour wine around the hens.
Roast the hens for 35-40 minutes, occasionally basting with pan drippings.
When the hens are done, transfer them to a plate and let rest for about 5 minutes. Transfer the pan drippings to a small pot, scraping the bottom of the pan to dislodge any brown bits. Add 1 teaspoon honey and if there are not a lot of drippings, add a few tablespoons water and/or wine. Simmer on low heat about 3-5 minutes. Add a pinch each of salt and pepper. Cut the hens in half and serve with the stuffing and pan juices.
Notes
*Since pan is already hot from toasting the almonds, the onions won't take as long to cook. If you omit the almonds from the recipe the onions will need about 5 minutes cooking time.
Recommended Products
As an Amazon Associate and member of other affiliate programs, I earn from qualifying purchases.
Nutrition Information:
Yield:

8
Amount Per Serving:
Calories:

615
Total Fat:

34g
Saturated Fat:

8g
Trans Fat:

0g
Unsaturated Fat:

23g
Cholesterol:

178mg
Sodium:

445mg
Carbohydrates:

39g
Fiber:

5g
Sugar:

16g
Protein:

39g
Nutrition information was calculated by Nutritionix. It may not be 100% accurate.
What's an elegant dish you like to serve for company?