Passover Wine and Food Goes Gourmet
April 3, 2015
This Passover, celebrate a traditional holiday with out-of-the-box gourmet Kosher for Passover food and wine.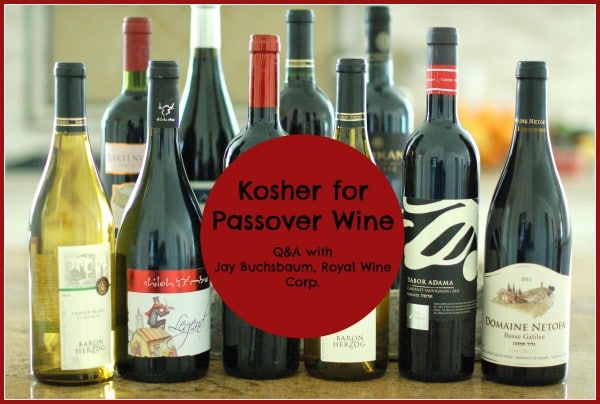 Thank you to the Royal Wine Corp. for sending me a generous box of wine to sample over the Passover holiday. And thanks to Jay Buchsbaum for taking the time to answer my questions below!
The Jewish holiday of Passover starts tonight with the first of two seders. For those who are not familiar, a seder, which literally means "order," is a meal that includes the retelling of the story of the liberation of the Jews from slavery in ancient Egypt. The story includes special Passover songs, drinking four cups of wine, eating matzo and other symbolic foods, and eating a large feast.
There are many traditional foods enjoyed at the seder – in my house we always start with a hard-boiled egg in salt water, matzo ball soup, brisket, and potato kugel along with a few other menu items (did I mention this is a feast?!). Over the years I have encouraged my mother (who always makes the seders at her house) to experiment with some new recipes, but other than roasted asparagus instead of having it steamed, she usually sticks to what she knows.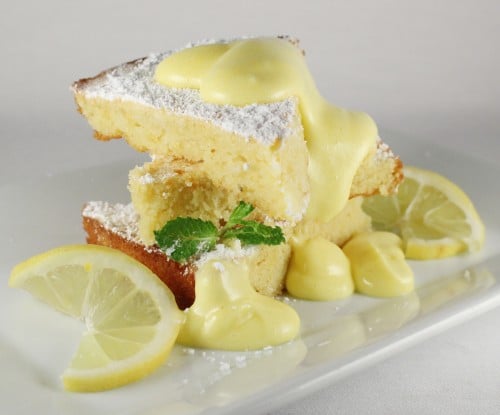 So of course I was intrigued when I received an email about Passover Re-Imagined with gourmet takes on the traditional Passover recipes from Chef Gabe Garcia who is the head chef at Tierra Sur at the Herzog Winery in California. And since drinking four cups of wine is a requirement at the seder, the recipes came with wine pairing suggestions from Jay Buchsbaum, wine educator at Royal Wine Corp, the largest distributor, importer and producer of kosher wine and spirits in the world.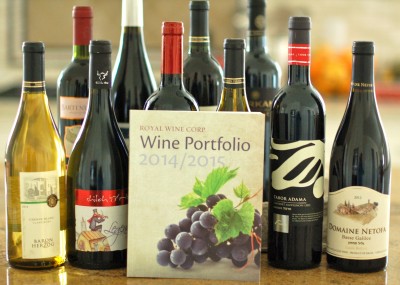 Now, I haven't really spent much time talking about wine in the past, but it's my (alcoholic) drink of choice. So what better time than now to learn more about Kosher wines, specifically Kosher for Passover. Jay was kind enough to share with me some of his wisdom about Kosher wines. Find out what he has to say and then check out one of the gourmet Kosher for Passover recipes below – you may want to enjoy this food and wine even if you don't celebrate Passover!
Q: For those who are unfamiliar with Kosher wines, can you explain the difference between wine that has a Kosher certification and wine that does not?
Jay: Kosher wine requires that from the crushing of the grape until the bottle is sealed it must be handled by observant jews. Also only Kosher ingredients can be used in processing. For example, gelatin, non-wine yeast that isn't Kosher, and fining agents caseinate and isinglass are non-kosher ingredients that cannot be used in the processing of Kosher wine.
Q: Is there any difference between wine that is Kosher all year round vs Kosher for Passover wine?
Jay: Most Kosher wines are Kosher all year and Passover but there are some wines that use corn sweeteners that are unacceptable for use on Passover according to most opinions.
Q: How do you determine what wines pair well with food? For example, do you look for specific spices used in recipes? Is it seasonal?
Jay: You look for wine that is in balance and ones which will not overpower the food nor the food overpower the wine. Good retailers can guide you.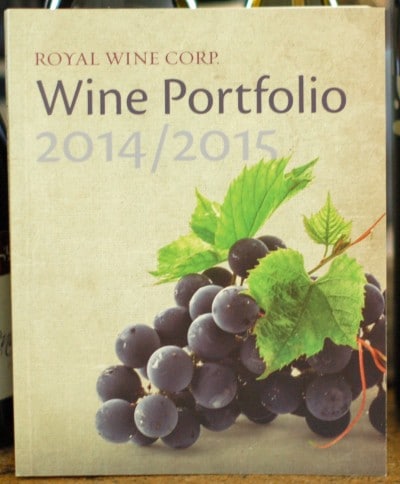 Q: You sent me a generous variety of Royal Wine Corp. wines, all of which sound delicious. Can you describe some of the ones I received? 
Baron Herzog Chenin Blanc 2014: Bright, sweet lemony fruit just off dry
Shiloh Legend 2011: Complex, rich, full-flavored of ripe blackberry, black cherries, and spice
Domaine Netofa Basse Galilee 2012: Soft, round, easy drinking with medium finish
Flam Syrah 2012: Intense, full flavor and spice, but well-balanced with integrated oak spice and dark fruit
Bartenura Rosso Toscano 2013: Light body, easy drinking, low tanins and acids lead to gentle flavors
Q: Anything else you would like to share?
Jay: When buying a Kosher wine judge it by its merits as wine not as Kosher wine. The herzog family of wines works very hard to make great wine that just happens to be Kosher!
One of my favorite recipes that Chef Garcia shared with me was his Citrus Beets with Toasted Walnut Brittle. I don't recall us ever eating beets at the seder – it's all about potatoes on Passover – so I was especially taken with this recipe.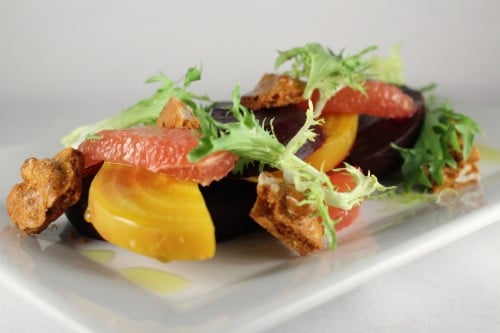 "I love beets! And by simply roasting them with some citrus you get a bright and vibrant dish that puts roasted potatoes to shame! The Toasted Walnut Brittle brings this dish together with a delightfully nutty flavor that compliments the sweetness of the beets and acidity of the citrus." – Chef Gabe Garcia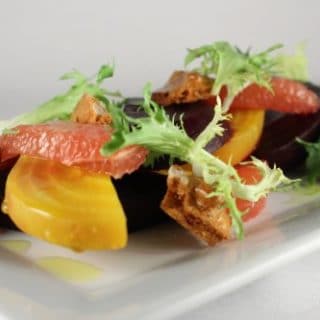 Citrus Beets with Walnut Brittle
Total Time:
1 hour
20 minutes
Ingredients
2 pounds beets, of desired color*
1 tablespoon kosher salt
3 tablespoons oil
1 pint water
2 large naval oranges, cut into segments
2 grapefruits, cut into segments
¼ cup of lime juice, fresh squeezed
¼ cup of lemon juice, fresh squeezed
¼ cup of extra virgin olive oil
Kosher salt to taste
Ground black pepper to taste
Frisée
Arugula
Brittle:
½ cup honey
½ cup water
1 cup sugar
2 cup walnuts
2 tablespoons margarine
1 teaspoon vanilla
½ teaspoon salt
1 teaspoon baking soda
Instructions
For the Beets:
Pre-heat oven to 350 degrees. Toss beets, salt, and oil together in mixing bowl. Put them in a high sided roasting pan and add enough water to cover beets half way. Cover roasting pan with aluminum foil. Bake in oven until fork tender, or about 30 to 45 minutes. Allow to cool 5 to 10 minutes. Use a clean kitchen towel to rub the skin off the beets. Cut into wedges. Pour juices over the beets as they cool. Refrigerate until thoroughly chilled.
For the Brittle:
Boil the honey, water and sugar until just before caramel, add in the walnuts and stir continuously, until walnuts are toasted and sugar has reached caramel stage.
Carefully stir in margarine, followed by vanilla, salt, and baking soda. Quickly spread thinly on parchment paper and let cool completely. Bake into desired size shards.
To Assemble the Salad:
Place beet wedges in a medium size bowl, add oranges, grapefruit, and olive oil, toss to coat and season with salt and pepper to taste.
Garnish with walnut brittle and fresh greens.
Notes
*Please note to roast red beets separate form all other beets. They will discolor the other color.
Wishing everyone who celebrates a happy – and gourmet – Passover!
Check back over the next few days for some more Kosher for Passover recipes to try this year!