Poached Salmon with Peach Salad {Recipe}
July 3, 2012
Between the hot weather and my busy schedule I've been trying to come up with dinner ideas that are not only Nutritioulicious, but also easy and don't require hours standing over a hot stove. A recipe from a recent issue of Everyday Food fit those parameters – Poached Salmon with Watercress Peach Salad. I like salmon, but as I've mentioned in the past my husband doesn't, so I passed over it. That is until I saw my hubby eating poached salmon at a recent event – lo and behold, it turns out he'll eat salmon if it's cold! So I went back to the recipe and decided to make it one night last week for dinner.
Poaching is the process of gently simmering food in liquid, usually stock or wine. (Ocassionaly you will find food poached in olive oil in restaurants, so it's a good idea to always ask what the meat is poached in.) If you've never poached something before don't let the idea of this cooking technique dissuade you – it's much easier than it seems. 
As usual, I made some changes to the original recipe: Instead of watercress I used arugula and I added pistachios and avocado to the salad.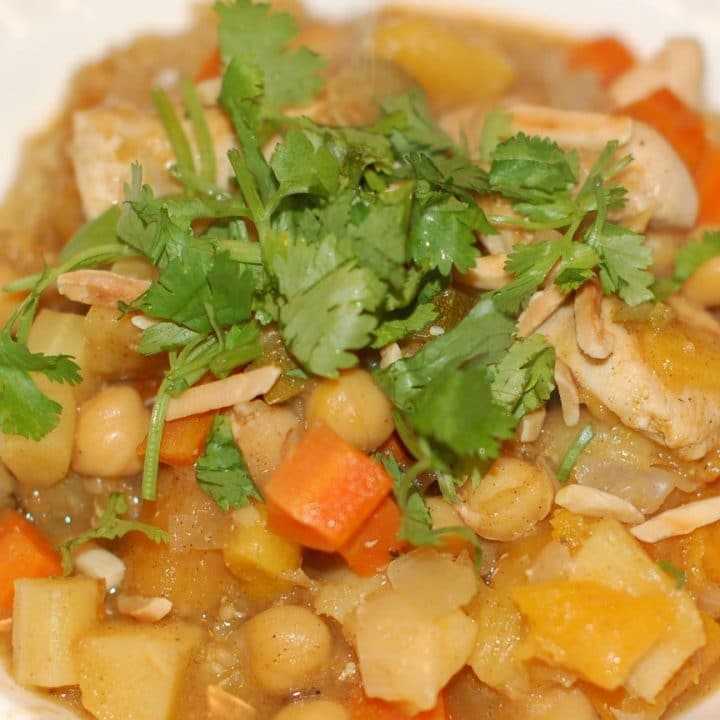 Moroccan Chicken
Ingredients
3 tablespoons olive oil
1 pound boneless, skinless chicken breasts cut into chunks (or 2 cups cooked chicken)
1 medium onion, finely diced
2 garlic cloves, minced
2 parsnips, diced
2 carrots, diced
2 teaspoons cumin
1 1/2 teaspoons cinnamon
1 1/2 teaspoons ginger
1/2 teaspoon chili powder
1 15- ounce can no-salt added garbanzo beans, drained and rinsed
2/3 cup quartered dried apricots
2 cups low-sodium chicken or vegetable broth
2 teaspoons honey
Kosher salt and freshly ground pepper, to taste
1/4 cup toasted sliced almonds
1/4 cup chopped cilantro leaves, original recipe called for mint
Instructions
In a large skillet, heat one tablespoon of olive oil over medium heat. Add chicken and saute until chicken is no longer pink on the outside, about 7 minutes. Remove chicken from pan and set aside. (If using cooked chicken you can skip this step.)
Heat remaining 2 tablespoons of oil over medium heat. Add onion and garlic, and saute until onions are golden, about 5 minutes. Add parsnip and carrots and saute another 5-7 minutes, until vegetables are tender.
Stir in cumin, cinnamon, ginger, and chili powder. Saute for another 30 seconds.
Add garbanzo beans, dried apricots, broth, honey, salt, and pepper. Cover and simmer 5 minutes.
Add chicken and simmer another 10-15 minutes. Taste and adjust seasoning as needed.
Serve over cooked quinoa and top with toasted almonds and chopped cilantro.
My husband loved the recipe and was really surprised how filling it was. The next day his colleagues from work emailed me asking what I had made because my husband raved about it at work! I think this recipe is a keeper (along with my hubby!).
Have you ever poached before? Share with us what you've made!