Making Sunday Brunch with the Kids
February 26, 2014
Ahh, Sunday brunch. Who doesn't like the thought of a lazy Sunday morning spent in bed followed by mimosas, French toast, and eggs benedict?
BK (aka Before Kids), Sunday brunch was a favorite pastime of mine. These days my Sundays are a bit different. We wake up early and get ready for a busy day, often filled with birthday parties or some other activity that will tire out the kids before we head back home for their nap. Sunday brunch happens sometimes, but often it's an easy bagel brunch at home or a chaotic meal at a restaurant. Luckily my girls love to eat, so we've actually been pretty lucky with being able to have some good brunch meals out. They're not the way they used to be back in the day – calm and relaxing; but it is possible to have a nice family brunch with the children at home. How?
Get the kids cooking!
I've said it before: when children are involved in the cooking process, they are more likely to try new foods since they had a hand in cooking them. And cooking with kids increases their competency in various domains, including fine motor skills, math, science, and reading. If those reasons aren't enough to convince you, here's one that will: when the kids are cooking with you, they're occupied and having fun, meaning you don't have to worry what trouble they're getting in elsewhere and you can get a nice meal on the table. And maybe you'll be able to enjoy a mimosa too!
One Sunday brunch recipe the whole family will enjoy making and eating is this Mushroom Onion Quiche.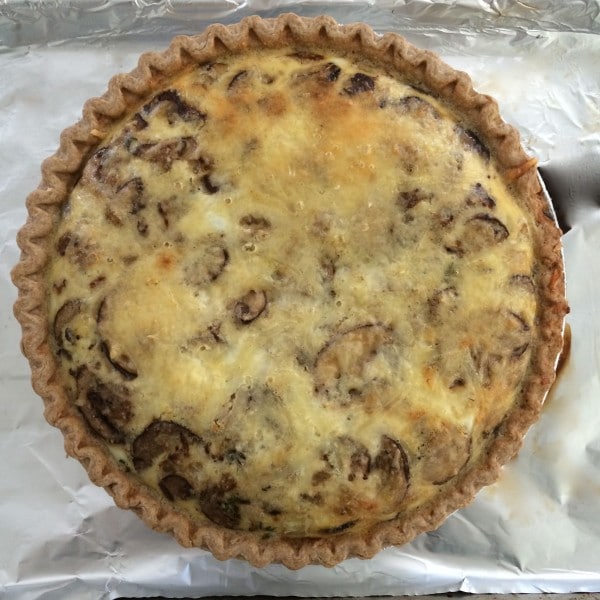 When I posted this picture on Facebook, Twitter, and Instagram a couple of weeks ago, I received so many likes and comments asking for the recipe. Come back tomorrow for the recipe and tell the kids to get ready to cook this weekend! Not sure what they can do? Here are just some of the tasks they can participate in – even more if they are older: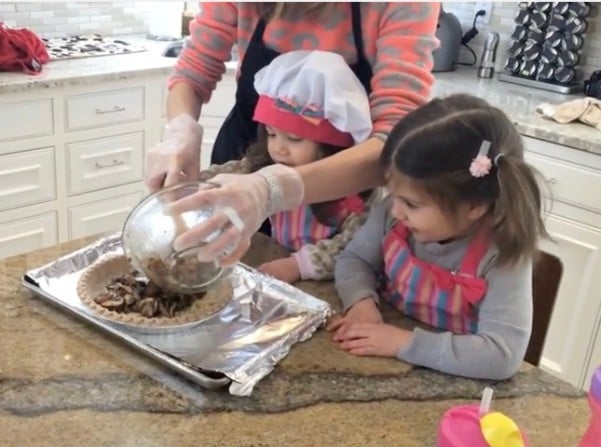 – Measuring out ingredients
– Cracking eggs
– Whisking eggs and milk
– Sprinkling cheese into crust and on top of eggs
– Adding mushroom-onion mixture to pie shell and spreading them in shell
If you cook with your kids, what are their favorite jobs in the kitchen?