Menu Plan Monday: September 25, 2017
September 25, 2017
Find out what's new at Small Bites by Jessica and get this week's menu plan and link love!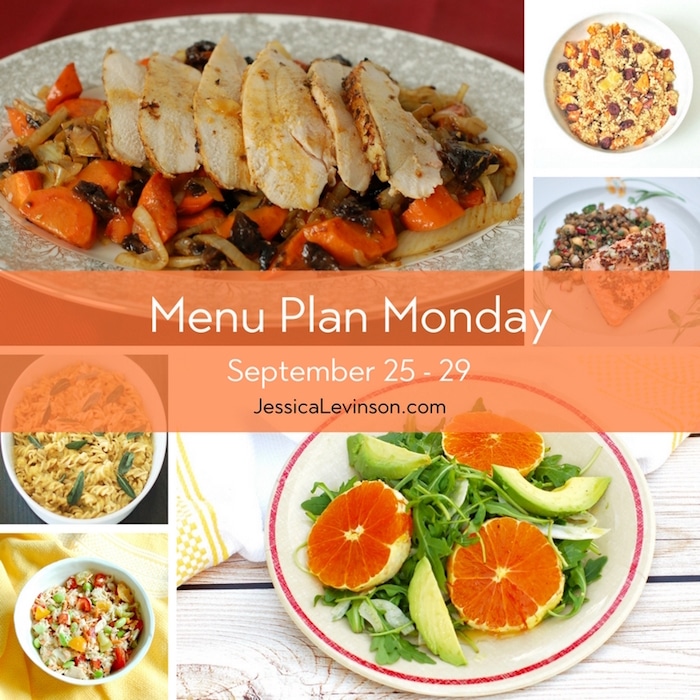 Latest Happenings:
I hope you had a great weekend and for those of you who celebrated Rosh Hashana, the Jewish New Year, I wish you a sweet and good new year! I'm so glad it's Monday and the kids are back in school after being off Wednesday through Friday last week! Plus after all the holiday meals I'm happy to get back to our routine snacks, lunches, and dinners.
ICYMI,* last week I shared a super easy and quick meal: Mediterranean Sheet Pan Salmon with Zucchini, Corn, and Tomatoes. Sheet pan meals in general, and this recipe in particular, check off multiple boxes on my list of what qualifies for weeknight dinners. Want to know what that list entails? Read my latest newsletter (and if you aren't getting the Small Bites by Jessica emails, sign up here)!
Now it's time to find out what interesting articles and delicious recipes you missed last week and get this week's menu plan!
*FYI, that's millennial speak for In Case You Missed It 😉
Link Love Articles:
5 Tips for Healthy Kids @ Food & Nutrition Magazine
⇒ You've probably seen these tips before, but they're worth repeating since many parents struggle with feeding kids healthfully.
7 Things to Ask Your Kids at Dinner Beyond "How Was Your Day?" @ The Kitchn
⇒ Sitting down to a family dinner is a battle in itself (stats show only 30 percent of American families share dinner every night), but once you sit down to dinner, do your kids talk about their day? Personally I find that unless I ask some leading questions, all I get are one or two word answers. If you have the same issue, check out this article for ideas of what to ask to find out what's really going on.
Picky Eating in Adults @ Your Choice Nutrition
⇒ Think picky eating ends in childhood? While most parents sure hope it does – and it usually can – there are adults who are picky eaters (I've met some myself). Brittany shares some great tips to help adults expand their palates.
Link Love Recipes:
40 Favorite Recipes From Dietitian Bloggers @ C It Nutritionally
⇒ If you've ever wondered what my favorite recipes are from my blog, I shared one of them with Chelsey and so did 39 of my colleagues.
Apple Honey Roses @ Feeding Them Wisely
⇒ Rosh Hashana may be over, but these apple roses are perfect for any fall gathering while it's prime apple season.
Sheet Pan Crispy Tofu and Vegetables with Peanut Sauce @ Joy. Food. Sunshine.
⇒ I have a sheet pan tofu recipe coming soon (stay tuned), but in the meantime, this one is definitely worth trying and will be making an appearance on my menu plan soon!
Healthy 5 Ingredient Dinners @ Food Confidence
⇒ You can't beat dinners that only require 5 ingredients!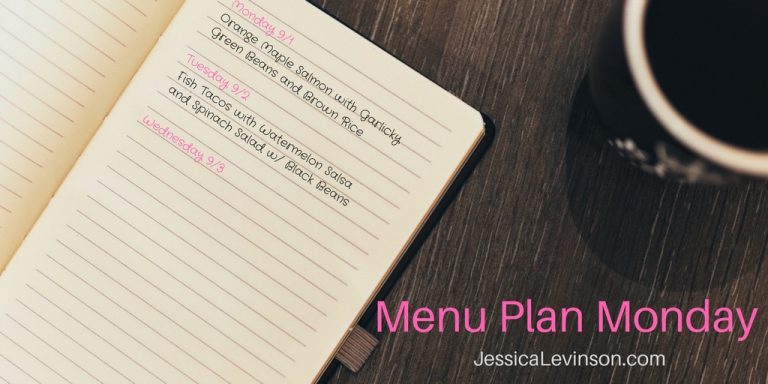 Menu Plan Monday: Week of September 25, 2017
Monday: 
Snack: Pumpkin seeds & sliced pear
Lunch: Beet & Goat Cheese Quinoa Salad, blanched peas, cucumbers/tomatoes, watermelon/banana (you can see the lunchbox on Facebook & Instagram)
Dinner: Orange Maple Salmon, Citrus Fennel Salad with Champagne-Lemon Vinaigrette, and Maple-Roasted Delicata Squash (without the quinoa)
Tuesday: 
Snack: Peruvian Inca Corn & cantaloupe
Lunch: Leftover salmon and squash, cucumbers/tomatoes, orange smiles
Dinner: Lightened-Up Macaroni & Cheese with roasted carrots, sweet potatoes, & broccoli
Wednesday: 
Snack: Cheese stick and kiwi
Lunch: Tuna Edamame Salad with crackers, veggies, and clementines
Dinner: Leftover mac and cheese and roasted veggies
Thursday: 
Snack: Yogurt pouch & pumpkin seeds
Lunch: Veggie burger, veggies, and grapes
Dinner: Mushroom Zucchini Frittata & Salad
Friday: 
Snack: NO SCHOOL
Lunch: NO SCHOOL
Dinner: Roasted Chicken with Fennel, Carrots, & Dried Plums, Cauliflower popcorn, and Spiced Quinoa with Roasted Apples and Root Vegetables
What's on your menu plan this week?
Please share with me below or on social media!