Menu Plan Monday: October 9, 2017
October 9, 2017
Find out what's new at Small Bites by Jessica and get this week's menu plan and link love!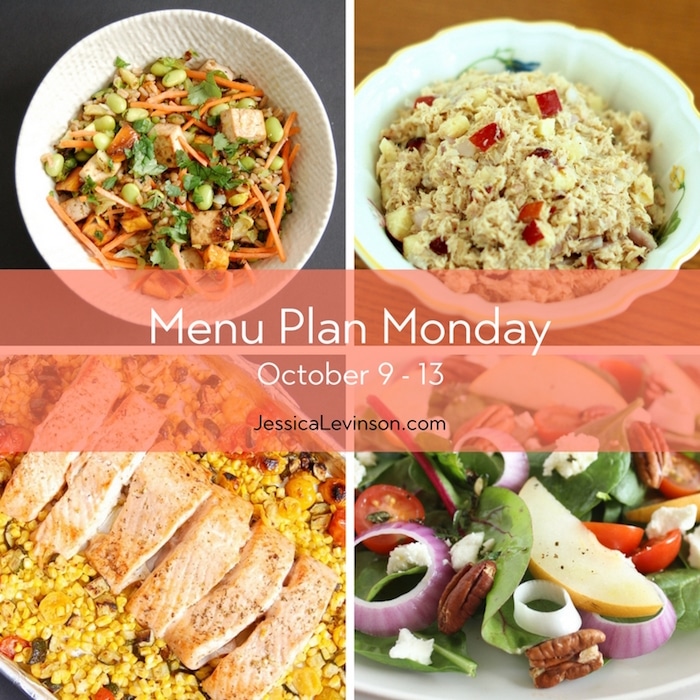 Latest Happenings:
Have you gotten on the pumpkin train yet this fall? The weather hasn't felt much like it, but fall is technically here and I'm finally starting to embrace the change of seasons. Last week my girls and I started every morning with my latest recipe, Pumpkin Spice Baked Oatmeal.
Topped with some low-fat plain or Greek yogurt, some fresh fruit, and a drizzle of maple syrup, it was a delicious and satisfying way to start the day. Plus, since it was made on Sunday, there was no morning rush to get breakfast made in time for the 7:34 AM school bus pickup!
If you're ready to add some flavors of fall to your weekly menu plan, I hope you'll give this new breakfast a try. Want to try some other pumpkin recipes? My Spiced Pumpkin Bread and Healthier Pumpkin Pancakes are also great breakfast options, and with Halloween coming up later this month, you and the kids may enjoy my Ravioli with Pumpkin Spice Yogurt Sauce.
I'd love to hear about your favorite fall pumpkin recipes. Share with me in the comments below or leave a comment on my Facebook page!
Link Love Articles:
20 Dairy and Soy-Free Products from Whole Foods @ The Baby Steps Dietitian
⇒ I'm personally very glad I don't need to give up dairy foods, but if I did, this is a great resource for products to try.
It's Okay When All Foods Don't Fit @ Nutrition to Fit
⇒ I'm very much a believer that all foods can fit in a healthy and balanced diet. That is as long as there are no medical reasons to eliminate a food. That is Lindsey's point in this great article.
Dietitian Confessions: 5 Food Rules I Break Because I'm Human @ Kiss in the Kitchen
⇒ Think dietitians follow their own advice 100% of the time? If you do, you must read my friend Shannon's latest post. (FYI, I was nodding my head in agreement with many of these!)
Link Love Recipes:
Southwest Breakfast Burrito with Acorn Squash @ Food Faith Fitness
⇒ I love winter squash, but never think to use it in breakfast dishes. Do you?
Healthy Whole Grain Porridge @ Running on Real Food
⇒ Great rundown of different whole grains you can use to make hot cereal in the morning. I'm actually working on a fall quinoa breakfast bowl, so stay tuned for that soon!
Flourless Greek Yogurt Pumpkin Muffin Bites @ Kroll's Korner
⇒ These look so hearty and delicious. Plus, I love some of the more surprising ingredients Tawnie includes!
Pumpkin Spice Oatmeal Latte @ Love & Zest
⇒ Ok, if you really can't give up the PSL, but you also love the idea of my pumpkin spice baked oatmeal, this recipe will satisfy both cravings!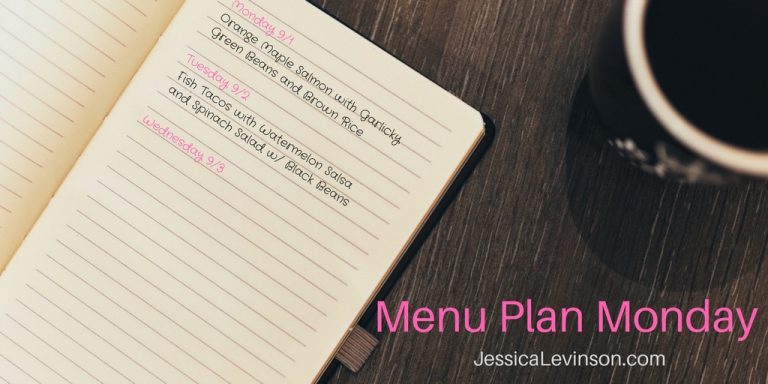 Menu Plan Monday: Week of October 9, 2017
Monday: 
Snack: Cheese stick and clementines
Lunch: Apple Tuna Salad with whole grain crackers, peppers & cucumbers/tomatoes, extra apple slices
Dinner: Asian-Style Farro Buddha Bowl with Crispy Baked Tofu (included roasted broccoli, brussels sprouts, parsnips, sweet potatoes, & butternut squash)
Tuesday: 
Snack: Yogurt pouch and pomegranates
Lunch: Leftover Buddha bowl with tofu
Dinner: Mushroom lentil veggie burger with Spinach Pear Salad with Goat Cheese
Wednesday: 
Snack: Spreadable cheese with cucumber slices and popcorn cakes
Lunch: Leftover mushroom lentil veggie burgers, veggies, & Asian pear
Dinner: Mediterranean Sheet Pan Salmon with Zucchini, Corn, & Tomatoes and brown rice
Thursday: 
Snack: NO SCHOOL
Lunch: NO SCHOOL
Dinner: Leftover salmon
Friday: 
Snack: NO SCHOOL
Lunch: NO SCHOOL
Dinner: Roasted chicken with figs and onions, Cauliflower popcorn, and Roasted delicata and acorn squash
What's on your menu plan this week?
Please share with me below or on social media!