Menu Plan Monday: October 23, 2017
October 23, 2017
Keeping it real, Link Love, and this week's menu plan!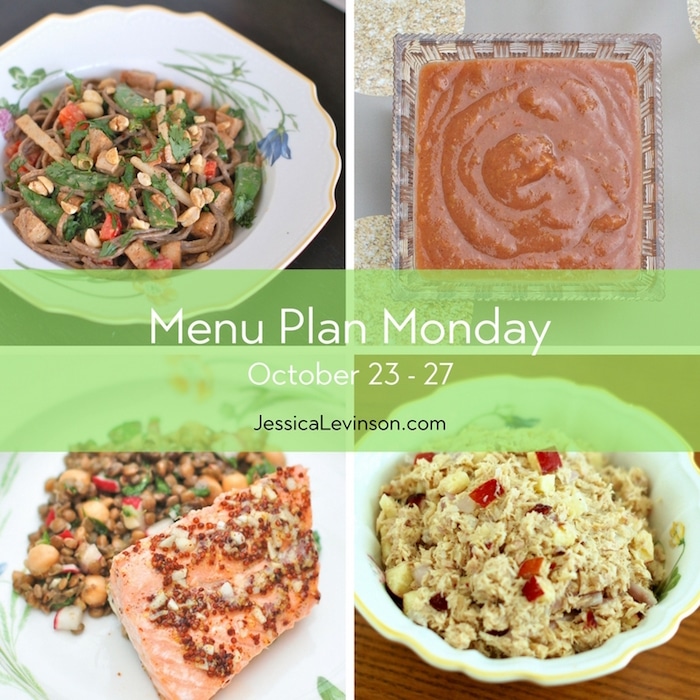 Latest Happenings:
When I launched Small Bites by Jessica, one of my promises was to keep it real and give you an inside look into the challenges I too face in the kitchen and at the table. Since you know I'm a big proponent of meal planning and prep, you may think that putting it into action comes easily to me. You may even think I never miss a week. Well, I want to let you in on a secret – I don't always have my act together.
By the time this past Sunday evening rolled around, I didn't have my full menu planned or my grocery list made. I didn't start prepping the girls' school lunches and snacks until they went to bed at around 8:30. Unlike prior weeks, I didn't have time to make ahead a baked oatmeal or smoothies for breakfast. All in all I was pretty unprepared.
And so it goes. Some weeks are better than others. I'm still not 100% sure what's on the dinner menu for the end of this week, but that's ok – by the time Friday rolls around I'll either have it figured out or we'll order take out. Four out of seven nights of homemade food ain't bad, right?!
Be real with me: what's one thing you're struggling with in the kitchen this week?
Also, in case you missed it, I posted two new recipes last week. My Pear & Pomegranate Quinoa Breakfast Bowl was made in partnership with SPLENDA® Brand using their new Splenda Naturals Stevia Sweetener, and my Roasted Delicata Squash Apple Salad has some gut-healthy benefits and is vegan and gluten-free. Be sure to check them out!
Link Love Articles:
The Definitive Guide to Heart Healthy Cooking Oils @ My Menu Pal
⇒ There are so many oils available these days, even I can't keep track of all their smoke points and best uses. The chart in this post is a great guide to have on hand when cooking.
Tips for Feeding an Underweight Child @ Real Mom Nutrition
⇒ Sally is a mom dietitian who is always keeping it real, just as she does in this post. There's so much focus on overweight and obesity in kids, that people often forget about the other end of the spectrum, which is just as important. Sally's tips are helpful for all parents, regardless of children's weight.
Why Don't We Respect Mothers More? @ Emily Wolf
⇒ This post has nothing to do with nutrition, food, or feeding a family, but it's about moms, which is most of you who follow along with me. This is a powerful piece written by a friend of mine who went to law school with my husband. Worth a read for sure.
Link Love Recipes:
Black Cherry Mojitos @ The Fitchen
⇒ Cherry season may be over, but frozen cherries are always in my freezer. Can't wait to make this pretty drink!
Mini Graveyard Dirt Cakes @ My Cape Cod Kitchen
⇒ How cute and fun are these for Halloween?! Plus, they boast a few healthy ingredients 😉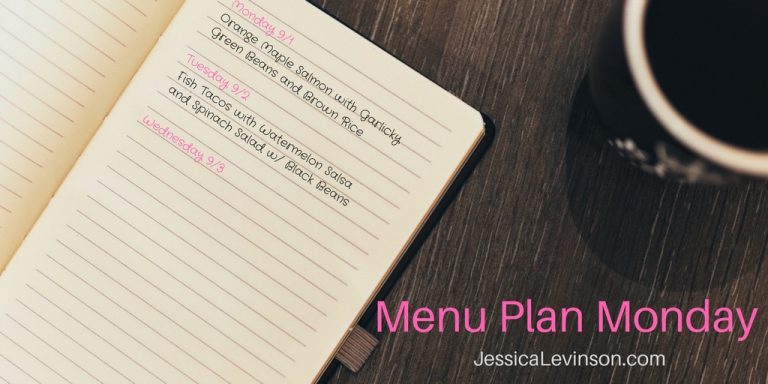 Menu Plan Monday: Week of October 23, 2017
Monday: 
Snack: SunGold Kiwi and Inca corn (from Trader Joe's)
Lunch: Apple Tuna Salad with crackers, tomatoes/cucumbers, homemade cinnamon applesauce, and olives
Dinner: Peanut Soba Noodles with Crispy Baked Tofu and Vegetables (did this as a make your own bowl dinner with roasted sweet potatoes, carrots, broccoli, and peppers; I also doubled the peanut sauce for Tuesday's dinner)
Tuesday: 
Snack: SunGold kiwi & Pumpkin seeds
Lunch: Hummus veggie wrap (added shredded carrots & cucumbers inside), feta cheese and pomegranate seeds, strawberries, and cucumbers/tomatoes
Dinner: Sautéed chicken and broccoli with peanut sauce and Riced Cauliflower Stir Fry (was supposed to be Thai Peanut Chicken Satay and other veggies, but we lost power, so had to make a stovetop dinner!)
Wednesday: 
Snack: Greek yogurt pouch and clementine
Lunch: Sunbutter berry kebabs, leftover roasted veggies, and pomegranate seeds
Dinner: Orange Maple Salmon with roasted cauliflower and wild rice stuffed acorn squash
Thursday: 
Snack: Spreadable cheese with peppers and carrots
Lunch: Beet, goat cheese, and chickpea salad, sliced veggies, and Asian pear
Dinner: Leftover salmon, cauliflower, and rice
Friday: 
Snack: Popcorn cakes with hummus
Lunch: Veggie burger, beets, cucumbers/tomatoes, and strawberries
Dinner: TBD
What's on your menu plan this week?
Please share with me below or on social media!