Menu Plan Monday: October 16, 2017
October 17, 2017
Link Love, this week's menu plan, and kitchen shortcuts!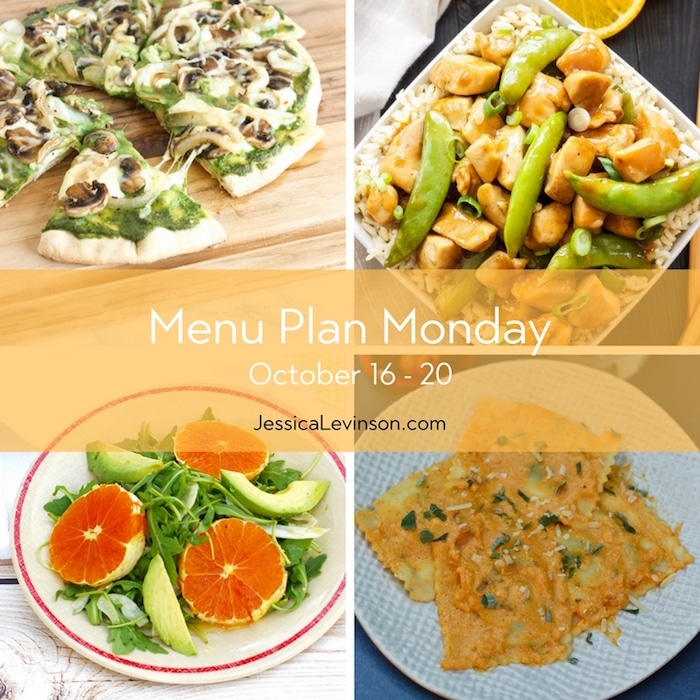 Latest Happenings:
Fall is finally here in NY and now it's time to get cooking all things warm and cozy! This past weekend we went apple and pumpkin picking, which is always so much fun for my girls. I already have one new apple recipe coming soon and this weekend the girls and I will be making some other favorites like Baked Apple French Toast and Cinnamon Applesauce.
Other than apples, you'll be seeing a lot of other fall fruits and veggies on this week's menu. Pomegranates and delicata squash are two of my family's favorite fall foods that aren't available for too long, so I get as much of them as I can while they're at low prices.
This week's menu may sound like a lot of work, but I have a whole bunch of shortcuts I use to get these meals on the table. I thought it would help to share those tricks with you in case you want to make anything from the menu.
For Monday's pizza night I am using whole wheat lavash flatbread instead of fresh dough. This saves a lot of time in the kitchen and is really just as yummy.
For Tuesday's dinner, Trader Joe's comes to the rescue! Their butternut squash zig zags found in the fresh produce aisle are a huge time saver and delicious roasted in the oven. The Riced Cauliflower Stir Fry is a newer product in the freezer aisle and so quick to make.
For Thursday's lunch, egg muffins are already in the freezer and just require an overnight defrost and quick reheating in the microwave before put into lunchboxes. For dinner, I'm using pre-made ravioli and the sauce is made from canned pumpkin and yogurt.
I hope these tips help give you some ideas of how you can get these healthy and delicious meals on the table for your family!
Link Love Articles:
7 Step Halloween Candy Strategy I Swear By @ Sarah Remmer
⇒ I personally find Halloween to be challenging and anxiety-provoking when the kids are faced with all that candy, but I do my best to follow as many of these tips as possible.
Meal Planning for Unorganized Folks @ Tasty Balance Nutrition
⇒ Obviously meal planning is something I'm passionate about, so of course I loved this article. I may get a meal plan up (almost) every week, but one of my top meal planning tips is to start small. The tips Lindsey shares will help you do that.
Link Love Recipes:
85 Vegetarian Recipes @ Shaw Simple Swaps
⇒ Whether you're looking for Meatless Monday ideas or just want to add more plant-based foods to your diet, this roundup will help.
Deep Dish Chocolate Chip Pumpkin Cookie @ Fit Mitten Kitchen
⇒ I made a chocolate chip skillet cake once and it was a huge hit. No doubt this will be too!
Halloween Blood and Guts Chocolate Cups @ Abbey's Kitchen
⇒ Some may be turned off by the name of this treat, but they sure do look delish!
Healthier Dairy-Free Dirt Pudding with Strawberry Ghosts @ Fit Mitten Kitchen
⇒ Another fun Halloween-themed dessert that's a healthier treat!
Frozen Yogurt Pumpkins @ The Lean Green Bean
⇒ These are so cute and kids will love to make them!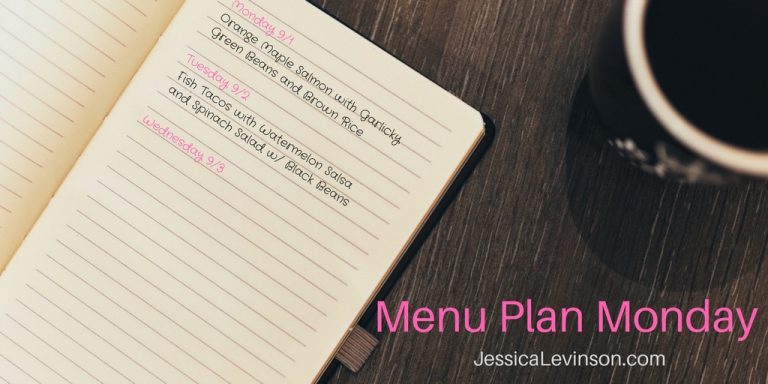 Menu Plan Monday: Week of October 16, 2017
Monday: 
Snack: Spreadable cheese, snap peas, peppers, & carrots
Lunch: Mushroom lentil bites, beets and goat cheese, strawberries
Dinner: Mushroom Onion Pesto Pizza and Roasted Delicata Squash Apple Salad
Tuesday: 
Snack: Popcorn and strawberries
Lunch: Salmon cucumber pinwheels, veggies, orange smiles
Dinner: Healthier Orange Chicken with Roasted Butternut Squash Fries and Riced Cauliflower Stir Fry
Wednesday: 
Snack: String cheese and clementines
Lunch: Salmon salad sandwich, veggies, and Asian Pear
Dinner: Leftover chicken and veggies
Thursday: 
Snack: Pumpkin energy balls and pomegranate seeds
Lunch: Easy Veggie Egg Muffins, veggies, and clementines
Dinner: Ravioli with Pumpkin Spice Yogurt Sauce and Citrus Fennel Salad
Friday: 
Snack: Dried fruit and green pea crisps
Lunch: Tomato Mozzarella Skewers, apples, and veggies
Dinner: Roasted chicken with figs and onions, Cauliflower popcorn, and Roasted delicata and acorn squash (rolled over from last week)
What's on your menu plan this week?
Please share with me below or on social media!