Two-Ingredient Mashed Sweet Potatoes
November 14, 2013
Two-ingredient mashed sweet potatoes are a quick, simple, nutritious, and delicious Thanksgiving side dish everyone will enjoy.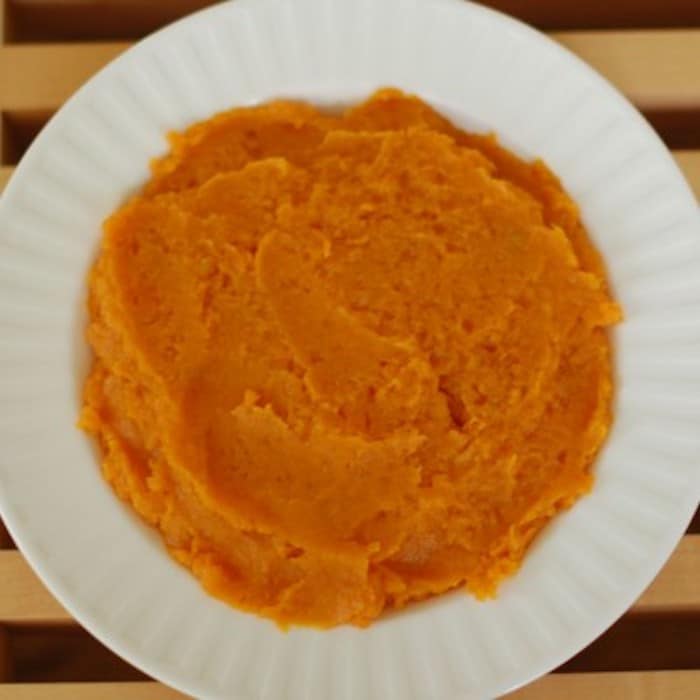 Pin the Recipe
Mashed potatoes are among the more classic side dishes for Thanksgiving dinner. But unless potatoes are roasted and crispy or in the form of well-done French fries, I am not one for the white potato. Despite what some people think, it's not a nutritional no-no – in fact, the white potato is filled with health benefits (unless of course it's doused with sour cream or mashed with loads of butter!). It's just the flavor and texture of white potatoes that I'm not the biggest fan of.
Sweet potatoes – and California Sweetpotatoes – on the other hand, are a favorite of mine. And they're more versatile than you may think. If you search for sweet potatoes on my blog, you will find numerous recipes, including my Sweet Potato Salad and Sweetpotato Black Bean Quesadillas. But when it comes to Thanksgiving, I stick with mashed sweet potatoes – a traditional take on the classic. If you search for mashed sweet potatoes online, you will find over 12 million results. (No joke – see screen shot below!)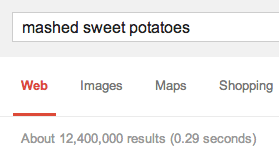 Many – or, dare I say, most – of these recipes include some combination of milk, butter, maple syrup, cinnamon, and nutmeg. And for Thanksgiving, there is of course the addition of marshmallows on top. While I am sure that these recipes taste great, they are likely not the most nutritious. And you know here, we're all about the combo of nutritious and delicious!
That's why my recipe for Two-Ingredient Mashed Sweet Potatoes includes just two ingredients: sweet potatoes and a touch of kosher salt. This is probably the easiest recipe you will make for Thanksgiving. In fact, I made it the other day and froze it so one dish is already crossed off the list!
Pin the Recipe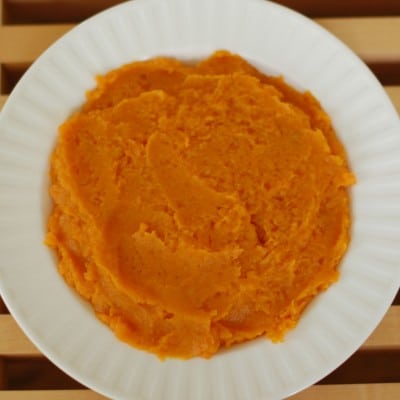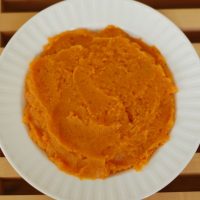 Mashed Sweet Potatoes
A nutritious and delicious twist on the Thanksgiving classic.
Total Time
1
hour
10
minutes
Ingredients
5

pounds

sweet potatoes

1

teaspoon

Kosher salt
Instructions
Preheat oven to convection roast at 400 degrees F.

Clean sweet potatoes and prick with tines of a fork in a few different places. Wrap each potato in a piece of aluminum foil and lay on a foil-lined baking sheet. Roast for 1 hour, until the flesh of the potatoes is soft. Remove from oven, remove foil, and set aside potatoes to cool for about 10 minutes.

Once cool enough to work with, remove potato peels (they should peel right off), and cut each potato into a few chunks and place in a large mixing bowl. Mash with a fork until smooth. Add salt and mix again.
And in case you were looking, here's a refresher of the nutritional benefits of sweet potatoes.
Side note – to please my husband, on Thanksgiving day I will spread the mashed sweet potatoes in a rimmed baking dish and cover half with mini marshmallows that will be broiled.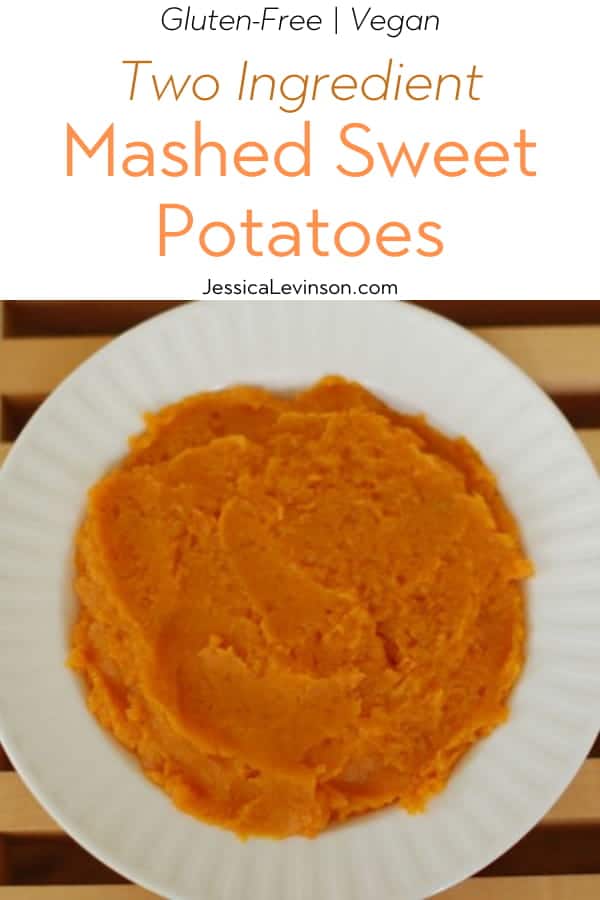 What's your favorite Thanksgiving potato recipe?
Share with me in the comments!