5 Tips for Handling Thanksgiving Leftovers Safely
November 17, 2015
Don't let all those delicious Thanksgiving leftovers go to waste. Find out how to safely store leftovers with these five tips.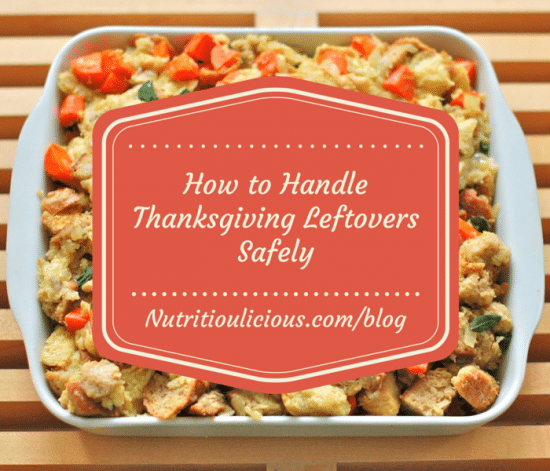 With Thanksgiving almost a week away, the holiday season is about to start, which means it's time to enjoy delicious food with great company. But all that cooking may leave you with lots of leftovers to pack up and enjoy the next day, or if handled properly, a few months from now.
Don't let those leftovers go to waste. Here are 5 quick tips for safely handing leftovers over the holidays (and always).
1. Cook Food Safely at Home
First things first, the food you serve should be cooked to a safe minimum temperature. Use a food thermometer to ensure the appropriate minimum internal temperature of cooked foods:
145° F for all steaks, roasts, and chops
160° F for ground beef, pork, lamb and veal
165° F for poultry
2. Cool Food Rapidly
Bacteria spreads fastest at temperatures between 40°F and 140°F – known as the "danger zone" so chilling food helps reduce the risk of foodborne illness. Illness-causing bacteria can grow on cooked foods if left out too long or in the danger zone. To prevent the reintroduction of bacteria, transfer hot foods to shallow containers for quicker cooling and refrigerate below 40°F.
The old rule of thumb was to cool food to at least 70 degrees within two hours before refrigerating (for food safety and energy efficiency), but most modern refrigerators are built to cool hot foods, so the general recommendation is to refrigerate food once it's cool enough to touch – approximately 90 to 100°F.
3. Wrap Leftovers Well + Store Leftovers Safely
Use foil or saran warp, wrap leftover items in airtight packaging, or seal them in storage containers or Ziplock bags to keep bacteria out, retain moisture, and prevent leftovers from picking up odors and flavors from other food in the refrigerator. And don't forget to label and date your leftovers so you know what's what! Once wrapped up, you won't know whether you're defrosting leftover turkey or cranberry sauce!
Leftovers can be kept in the refrigerator for 3 to 4 days or frozen for 3 to 6 months. For more information on storage times check out Storage Times for the Refrigerator and Freezer.
4. Thaw Leftovers Safely
You can safely thaw foods in the refrigerator, cold water, or microwave, with refrigerator thawing taking the longest amount of time, but the safest.
When using the cold water thawing method, make sure the food is in a leak-proof bag or container to ensure bacteria doesn't enter the food. While microwave thawing is the fastest method, it doesn't usually lead to the best quality results.
Despite common thought, you can actually refreeze defrosted food, whether or not it is cooked, as long as it is defrosted in the refrigerator and frozen within 3 to 4 days.
5. Reheating Leftovers
When reheating leftovers, be sure they reach 165° F. Always use a food thermometer to check the internal temperature of the food.
For more information and other great tips, visit the USDA Food Safety website.
How do you safely handle your holiday leftovers?
Share with me in the comments below!