Whole Grain Sampling Day!
April 3, 2013
This post was written by Tiana Yom
Today — April 3rd  — is Whole Grain Sampling Day, a nationwide, annual initiative by the Oldways Whole Grains Council (WGC), designed to introduce consumers to the health benefits and great taste of whole grains.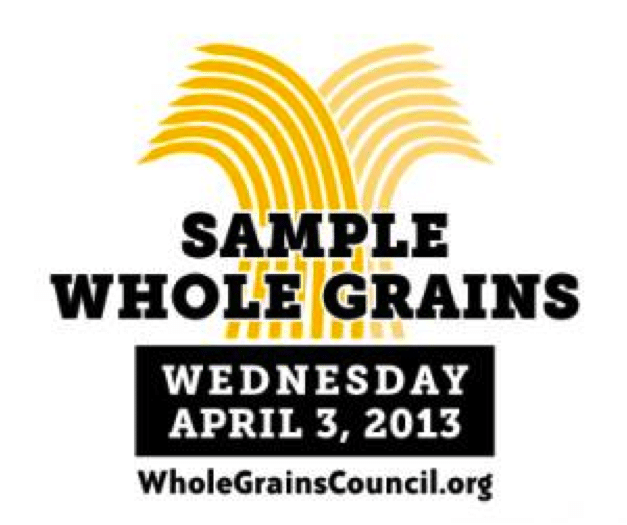 This year, events will take place in supermarkets, on the streets, and in foodservice establishments. And today at noon EST there will be a virtual "Whole Grain Toast" where everyone across the nation and worldwide can celebrate whole grains together. Get ready to shout out your favorite grain, snap a photo enjoying a whole grain treat, and encourage others to join in the fun.  If you're participating on Twitter, be sure to use the hashtag #SampleWholeGrains.
What are whole grains?
Whole grains or foods made from them contain all the essential parts and naturally occurring nutrients of the entire grain seed. If the grain has been processed (e.g., cracked, crushed, rolled, extruded, and/or cooked), the food product should deliver approximately the same rich balance of nutrients that are found in the original grain seed. This definition means that 100% of the original kernel – all of the bran, germ, and endosperm – must be present to qualify as a whole grain.
Some examples of whole grains include barley, buckwheat, corn (including popcorn!), millet, quinoa, rice, bulgur, farro, einkorn, wheatberries, rye, and oats.
Oldways and Whole Grains Council
Oldways is a nonprofit food and nutrition education organization, with a mission to provide practical and positive programs to guide people to good health. In 2003, Oldways initiated the Whole Grains Council (WGC) to increase consumption of whole grains for better health, and in 2005, they introduced the Whole Grain Stamp. The WGC's many initiatives help consumers find whole grain foods and understand their health benefits; help manufacturers and restaurants create Nutritioulicious whole grain foods; and help the media write accurate, compelling stories about whole grains
Here at Nutritioulicious our favorite whole grains are oats (Tiana's) and quinoa (Jessica's).
What's your favorite whole grain? 
Remember to share your favorite whole grain on Twitter @OldwaysPT at noon today!