Weight Loss Inspiration From Marlo Thomas
April 30, 2013
When you're trying to follow a diet plan or a new exercise regimen, sometimes you need a little push to keep up your motivation. Last week I came across an inspirational article on Marlo Thomas' website that I think will encourage anyone struggling with weight loss and weight-related health issues like diabetes and heart disease.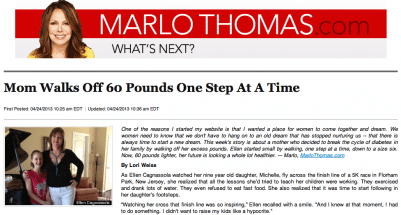 Ms. Thomas writes about a woman, Ellen Cagnassola, who was so busy taking care of everyone else in her family that she gained 60 pounds over the years. She encouraged her children to exercise and eat well and felt it was time to do as she said. Over the course of a year and a half Ellen built up to walking 25 miles a week, went down to a size 6, was able to get off of her blood pressure and cholesterol medications, and lost 60 pounds. Amazing!
I found it interesting that Ellen referred to the scale as an "arch enemy" of people trying to lose weight. Many people think getting on the scale every day is a source of motivation, but in my experience counseling clients I often find that people do better when they use the fit of their clothes as a guide to their weight loss success than a number on a scale. And when it comes to food, Ellen's cravings changed and while she still enjoys sweets, and indulges in desserts on occasion, she thinks about vegetables and is excited to eat them. Ellen is just another example of how allowing yourself to enjoy all foods in moderation can lead to lasting weight loss.
Do you have an inspirational weight-loss or health-related story to share?