Vegetarian Chili
October 20, 2011
A few weekends ago I woke up with the desire to make chili. It was a crisp, fall day – perfect weather for a hearty, stick-to-your-ribs type of meal. My husband and I decided to make a pot of vegetarian chili. Off we went off to the supermarket to buy the ingredients we needed and we spent the afternoon in the kitchen. Something about cooking together on a Sunday afternoon is so relaxing, especially on a chilly day (no pun intended)! (I have to give my husband credit though – he did the majority of the cooking.) We invited my brother, sister-in-law, and their two kids over for dinner too, so we kept the chili child-friendly – that means we made it without the kick we normally would include (I didn't think a 3 1/2 year old and a 1 1/2 year old would go for hot peppers!). We served the chili with various toppings, including nonfat Greek yogurt (in place of the traditional chili topper sour cream), shredded Cheddar cheese, chives from our CSA, and Fritos (my husband insisted!). Here's my husband's plate: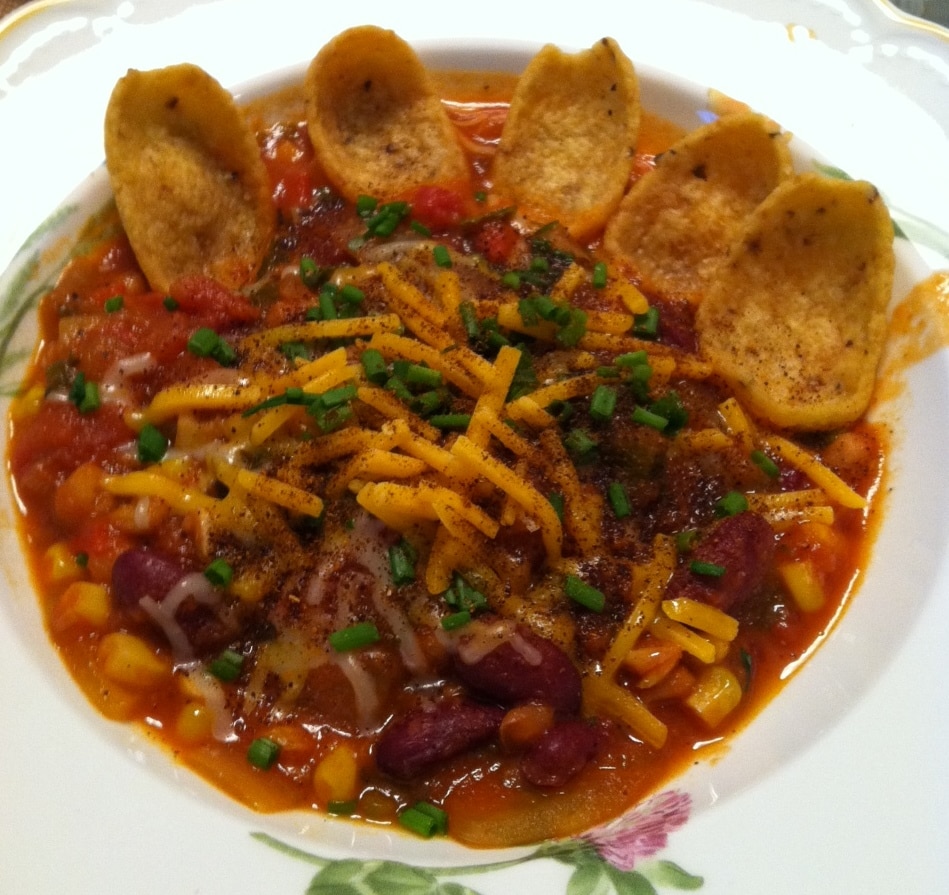 Vegetarian Chili 
Serves 6-8
Ingredients:
1 tablespoon olive oil
4 garlic cloves, minced
1 medium onion, diced
2 shallots, diced
1 medium red bell pepper, seeded and diced
1 small purple pepper, seeded and diced (we had this from the CSA)
1 hot pepper, seeded and diced (add some seeds for spice)
Cumin, to taste
Chili powder, to taste
1 28-ounce can crushed tomatoes
2 cups water or low-sodium vegetable stock
2 cups chopped kale
Dried oregano, to taste
1 15-ounce can no-salt added kidney beans, drained and rinsed
1 15-ounce can no-salt added navy beans, drained and rinsed
2-3 cups frozen corn kernels
Salt and freshly ground black pepper to taste
Directions:
Heat the oil in a large pot over medium heat. Add the garlic, onion, shallots, and peppers and saute until softened, about 10 minutes. Add the cumin and chili powder and cook, stirring, for 1 minute.
Stir in the crushed tomatoes, water or stock, kale, and oregano and bring to a boil. Reduce the heat to medium-low, cover, and cook, stirring from time to time, for 30 minutes.
Stir in the beans and corn, cover, and continue cooking for about 15-20 minutes longer. Uncover and cook another 10-15 minutes until the chili is nicely thickened. Season with salt and pepper and serve.
This chili is also perfect for the fall and winter game days, especially Super Bowl Sunday!
What do you like to cook on crisp, fall days?