Tofu Croutons {Recipe}
October 17, 2012
Disclosure: By posting this recipe I am entering a recipe contest sponsored by The Soyfoods Council and am eligible to win prizes associated with the contest. I was not compensated for my time.
Tofu is one of those foods that people tend to be skeptical about. I don't make tofu that often, but when I do and my husband asks what's for dinner, he doesn't respond with the most excited look on his face. Recently, when I made tofu for my twin girls, my mother – who I don't think has even tried tofu – looked at me in disbelief, with a look that so much as said "why are you giving them that stuff?!" (My girls actually really love tofu, especially with garlic and mashed sweet potatoes!)
I have to admit, I don't make tofu that often and when I do I'm not too adventurous – I mainly stick with stir fry or a baked tofu dish. On occasion I have tried my hand at more complex recipes that use tofu like curry and Pad Thai, and one time I made panko-crusted tofu, which my husband actually loved and keeps begging me to make again (it was a lengthy and messy process, which is why it hasn't been repeated). When I found out that The Soyfoods Council was challenging members of The Recipe ReDux to make recipes using tofu in a "How to…Tofu" recipe contest, I had to step up to the challenge and move out of my comfort zone. The challenge is in honor of National Breast Cancer Awareness Month (going on throughout October) as a way to inspire people to add more soyfoods to their diets.
After lengthy brainstorming, I came up with two easy recipes that will add a protein punch to any salad. The first one, Tofu Croutons, adds a nice texture and nutrients to a salad and can also be enjoyed as a snack on their own (be careful – once you start popping these in your mouth you may not be able to stop). Two things I learned when making these croutons: 1) don't cut the tofu cubes too big – the thinner they are, the crispier they get; 2) use extra-firm tofu, which will hold better than firm tofu.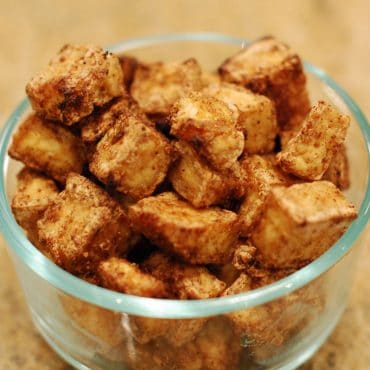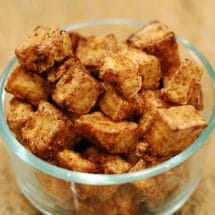 Ingredients
1

pound

extra firm tofu

drained

1

tablespoon

olive oil

1

teaspoon

coriander

3/4

teaspoon

chili powder

1/8

teaspoon

Kosher salt
Instructions
Cut drained tofu into 1/4"-1/2" cubes. In a medium bowl toss the tofu cubes in olive oil, coriander, chili powder, and salt.

Spread tofu cubes in a single layer on a foil-lined baking sheet. Broil for 10 minutes, turn cubes, and broil for another 5-10 minutes, depending on how crispy you like your croutons. Let cool before sprinkling on salad.
Tomorrow I'll share another tofu recipe that can be enjoyed with these tofu croutons.
How do you tofu?