Thai Peanut Chicken
February 29, 2012
I love peanut butter and Thai food (I've tried making curry and pad Thai at home), so when I received an email from the folks at San-J with recipes using some of their sauces I was excited to try my hand at a new chicken dish. Their recipe, Spicy Peanut Basil Chicken, called for fresh basil, which isn't in season right now. So I decided to modify the recipe a little and I used fresh cilantro (which I already had in the fridge from the fish tacos I made last week). The recipe uses San-J's Thai Peanut sauce, which I love and often use for tofu stir fry. I'm glad I now have another use for it! My husband raved about the chicken and our baby nurse had some leftover wrapped in a corn tortilla with some mango salsa on top, which is another great combo!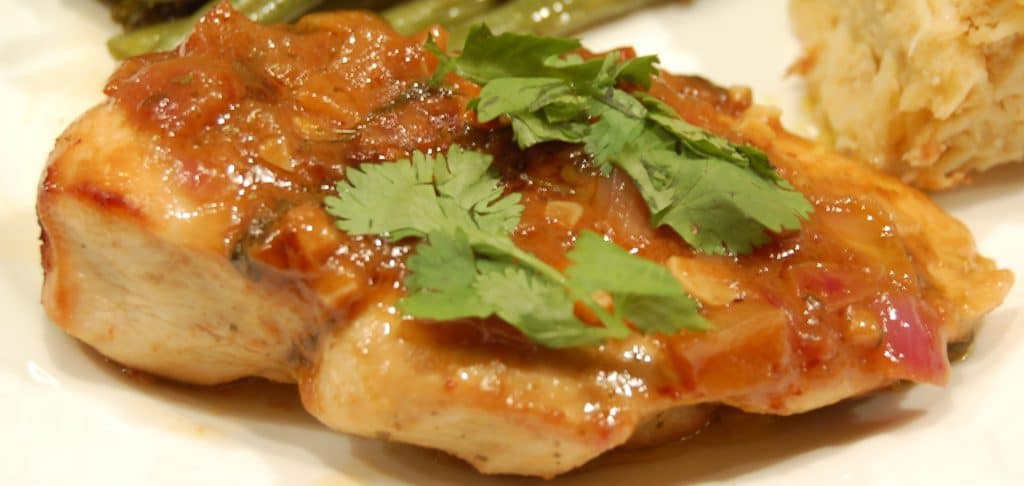 Thai Peanut Chicken
Serves 4
Ingredients:
1/2 cup San-J Thai Peanut Sauce
1/3 cup olive oil, plus additional for brushing
4 large garlic cloves, minced
1/4 teaspoon cumin
Juice from 1 lime
1/2 large red onion, chopped
1/3 cup chopped cilantro
Dash of Kosher salt
Dash of red-pepper flakes
4 boneless, skinless chicken breasts
Directions:
In a large bowl (I used a large glass measuring cup), combine the peanut sauce, oil, garlic, cumin, lime juice, onion, cilantro, salt, and red-pepper flakes. Mix well to combine until mixture resembles a marinade. Transfer marinade to a large sealable bag. Add the chicken breasts, seal bag, and marinate in the refrigerator for 3 hours (I didn't have 3 hours, so I just marinated for 30 minutes, but the longer you marinate the more flavor gets into the chicken). Preheat oven to 450 degrees F.
Line a baking dish with foil and brush with olive oil. Remove chicken from bags and place in prepared baking dish. Transfer marinade to a small pot; discard bag. Bake chicken in oven for 15 minutes, flip breasts and rotate position of baking dish to ensure even baking. Bake for another 20 minutes or until chicken is golden brown and no longer pink inside.
Meanwhile, heat marinade over medium heat until boiling. Simmer for 25 minutes.
Remove chicken from oven; transfer to plates. Remove marinade from heat; spoon over chicken.
Disclaimer: I was not paid to promote this product. All opinions are my own.