Tapas Style Dining
February 12, 2013
Last weekend we tried a delicious tapas restaurant called NoMa Social. Dining tapas style – also known as small plates – began in Spain, but has become a big restaurant trend over the years. I love going out for tapas because I often find it difficult to choose one or two dishes at a restaurant, and eating tapas allows you to try many different things. But beware – if you're not mindful of what you're ordering you could end up overdoing it and taking in many more calories than you would at a more traditional one to three course dinner.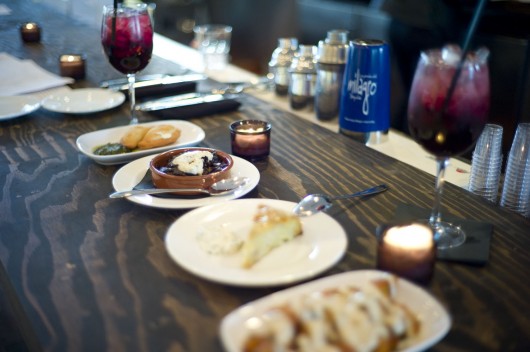 Tapas usually come to the table as they are ready, so you may not realize how much you are eating when food is continuously being brought to you. And because you're taste buds are being introduced to so many different flavors, you may not feel as satiated as you would when you eat one or two dishes with consistent flavors. Recent research has shown that when variety of food increases, people eat more. Taking all of these warnings into consideration doesn't mean you can't enjoy a fun dinner of tapas with a group of friends. Here are some tips to get you through the meal without having to loosen a notch on your belt!
Ask for items to be served as distinct courses.

Even if you are ordering 10 different dishes, ask the waitress to bring two to three at a time. This way you can relax and enjoy what you are eating without rushing to the next thing before it gets cold. Slowing down the pace of eating should help you recognize whether you are still hungry when the next round of food arrives. 
Order a balanced meal. Remember the balanced plate even when ordering multiple plates: half vegetables and fruit, one-quarter protein, one-quarter carbohydrate. At NoMa some of the dishes we ordered included Cippolini onions (vegetable), Mac & Cheese (Carb), tuna flatbread (protein), and Blood Orange Salad (vegetable).
Order more as needed. I often find my mouth watering for a dozen items on a tapas menu, which is good because I can try a bunch, but it can also be a setup for disaster if we order too much. The great thing about tapas is that you can usually order as you go. Ask your waiter for guidance on how much to order based on the number of diners and the size of the menu items you are interested in. General rule of thumb tends to be two plates per person. Choose what you are most interested in with the knowledge that you can always order more if you haven't had enough or aren't satisfied.
Take your time and enjoy. Remember that dining tapas style was designed to encourage conversation, so linger over a friendly, fun meal. Take your time and eat with all your senses to enjoy every morsel of food.
Have you been out for tapas? What do you like best about the tapas dining style?