Stay Hydrated and Menu Plan Monday
July 15, 2013
This week is going to be Hot, Hot, Hot!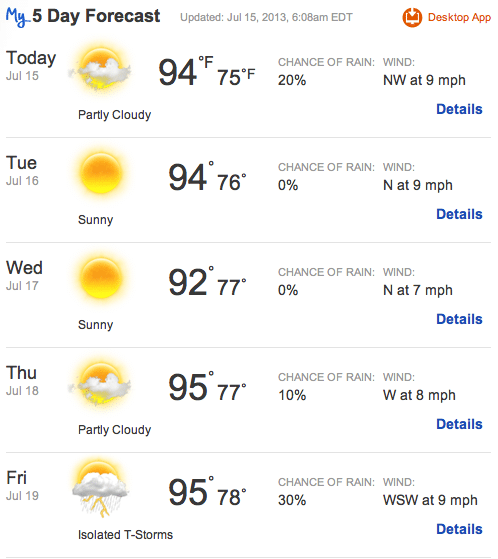 The temps this week are going to be over 90 degrees, which means it's more important than usual to stay hydrated. Your best bet is plain, old water – it's calorie-free and cheap. But if you want some flavor, add lemon, cucumber, or orange slices or even some blueberries and strawberries. Added bonus: berries have a high water content, which means eating them will hydrate you too. It was once thought that coffee, tea, and diet soda were dehydrating because of the caffeine, but that myth was debunked years ago, so feel free to have an occasional cup. Other water-rich foods: summer squash and zucchini, cherries, watermelon, lettuce, cucumbers, and tomatoes. Is it any surprise these are the produce currently in season?! You can also stay hydrated with yogurt, oatmeal, and soups. It may be hot outside, but chances are your office is blasting the AC, meaning a nice warm cup of soup may be the perfect lunch option.
What do you eat and drink to stay cool and hydrated during the dog days of summer?
Menu Week of July 15, 2013
Monday: Zucchini and Tomato Lasagna (adapted from a Teaspoon of Spice recent recipe) and Grilled Corn
Tuesday: Grilled Chicken Satay with Peanut Sauce and Farmers Market Fresh Sugar Snap Peas
Wednesday: Leftovers
Thursday: Off Duty
Friday: Coconut-Lime Chicken with Grilled Green Beans and Shorty's Brown Rice (from The Fresh & Green Table)
Saturday: Dinner with friends
Sunday: BBQ
Linking up at Org Junkie's Menu Plan Monday.