Spice it Up with Moroccan Chicken
June 26, 2012
As you know, I love herbs and spices. They seriously make every dish so much better! Whatever you're cooking – whether it's homemade croutons, soup, or a myriad of other well-seasoned recipes – herbs and spices go a long way to making a flavorful recipe that stands out. I recently came across an article in Parenting magazine featuring recipes that use a cooked rotisserie chicken. I usually don't buy a whole cooked chicken, but I was inspired (as I often am) by the recipes to make a version of their Moroccan chicken. I made my version for dinner Friday night and served it over simply cooked quinoa (in place of the traditional couscous pairing). It was so fragrant and delicious. You must try it!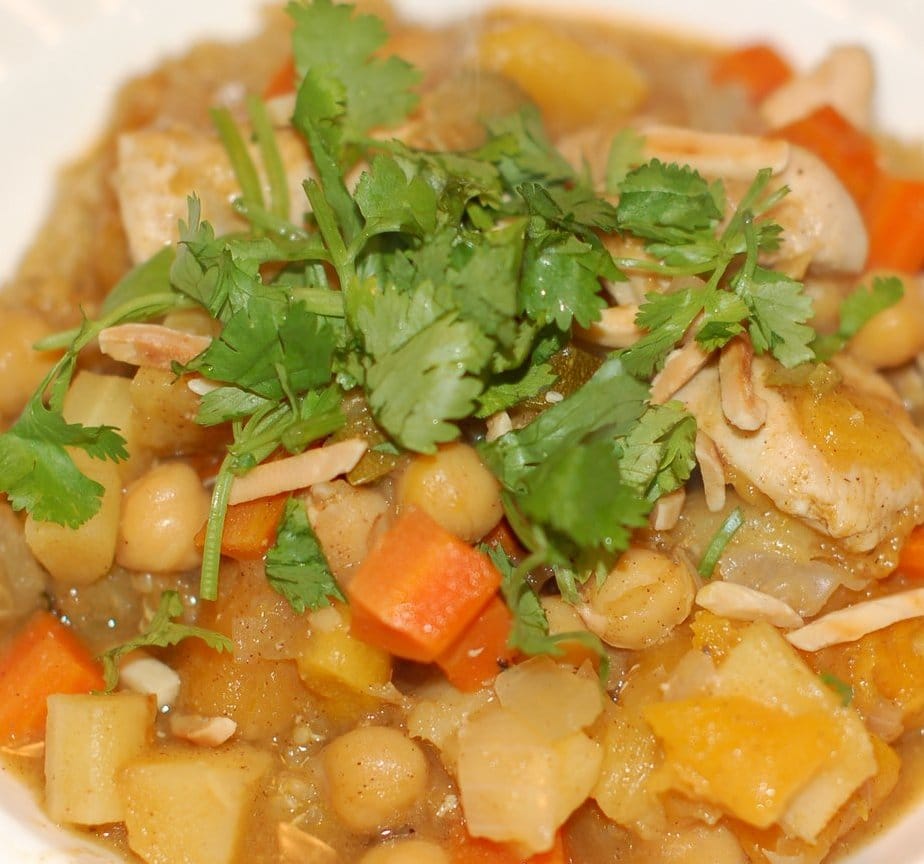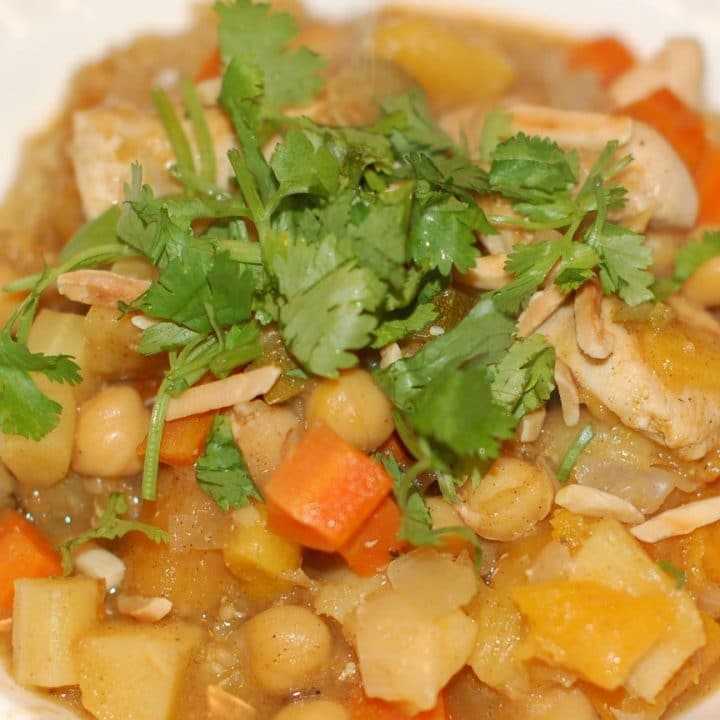 Moroccan Chicken
Ingredients
3 tablespoons olive oil
1 pound boneless, skinless chicken breasts cut into chunks (or 2 cups cooked chicken)
1 medium onion, finely diced
2 garlic cloves, minced
2 parsnips, diced
2 carrots, diced
2 teaspoons cumin
1 1/2 teaspoons cinnamon
1 1/2 teaspoons ginger
1/2 teaspoon chili powder
1 15- ounce can no-salt added garbanzo beans, drained and rinsed
2/3 cup quartered dried apricots
2 cups low-sodium chicken or vegetable broth
2 teaspoons honey
Kosher salt and freshly ground pepper, to taste
1/4 cup toasted sliced almonds
1/4 cup chopped cilantro leaves, original recipe called for mint
Instructions
In a large skillet, heat one tablespoon of olive oil over medium heat. Add chicken and saute until chicken is no longer pink on the outside, about 7 minutes. Remove chicken from pan and set aside. (If using cooked chicken you can skip this step.)
Heat remaining 2 tablespoons of oil over medium heat. Add onion and garlic, and saute until onions are golden, about 5 minutes. Add parsnip and carrots and saute another 5-7 minutes, until vegetables are tender.
Stir in cumin, cinnamon, ginger, and chili powder. Saute for another 30 seconds.
Add garbanzo beans, dried apricots, broth, honey, salt, and pepper. Cover and simmer 5 minutes.
Add chicken and simmer another 10-15 minutes. Taste and adjust seasoning as needed.
Serve over cooked quinoa and top with toasted almonds and chopped cilantro.
Before you dig into this dish, take a moment to breathe in the aroma of all the spices used in this dish. If you close your eyes you may even think you are in a different place – perhaps a little town in Morocco! 
What recipes do you like that are full of spices and flavor?