Roasted Spiced Squash Seeds {Recipe}
January 8, 2013
When you make butternut squash, what do you do
with the stringy seeds on the inside?
Please don't tell me you throw them away! They may look inedible, but these large, flat, elliptical-shaped white seeds are actually full of nutrients. They contain fiber, mono-unsaturated fatty acids (like those found in olive oil), protein, and a handful of minerals. Like pumpkin seeds – also known as pepitas – you don't want to eat winter squash seeds raw. I love roasting them with spices and sprinkling them on top of squash soup and different salads. They're also great to pop in your mouth as a snack, just watch your portion size. Remember – calories and fat from nuts and seeds add up fast. Two tablespoons of dried squash seeds contain 90 calories, 2 g carbohydrate, 1 g fiber, 5 g protein, 8 g total fat.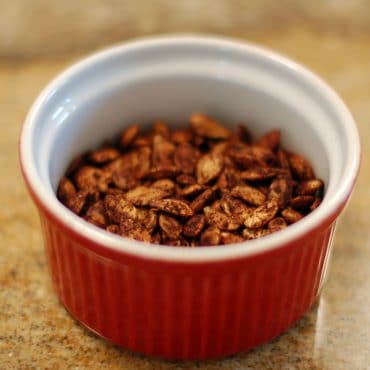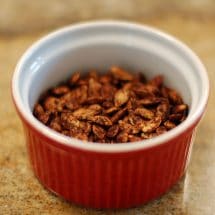 Ingredients
Nonstick cooking spray

Seeds from 1 butternut squash

removed and cleaned

1-2

teaspoons

olive oil

Ground cinnamon

Ginger powder

Chili Powder

Kosher salt
Instructions
Preheat oven to 200 degrees F. Spray a lined baking sheet with cooking spray and set aside.

Toss the cleaned squash seeds with olive oil. Sprinkle with cinnamon, ginger powder, chili powder, and a pinch of salt. Use as much or as little of the spices as you like. Spread the seeds in one layer on the prepared baking sheet.

Roast the seeds in the oven for 10-15 minutes, occasionally shaking them to make sure they are evenly roasted. Keep an eye on them so they don't burn. Remove from oven and let cool. Store in an airtight container.