Recipe ReDux: Spaghetti Squash Chicken Puttanesca
May 21, 2012
This month's theme for the Recipe ReDux was "Sea What You've Been Missing" — the challenge was to create an appealing recipe using "little fishes" or sea vegetables. Little fish like sardines and anchovies are some of the most nutritious fish we can eat, full of the super beneficial omega-3 fatty acids. And thanks to the small edible bones in anchovies and sardines (if they're small ones), you can get some extra calcium.
Unfortunately, these little fish aren't very well liked. It wasn't until the past few years that I myself became a fan of these fish; they are definitely an acquired taste. Since my husband falls into the category of those who don't like little fishes, when I saw this month's challenge I wondered how I was going to come up with a recipe that he would eat. I'm not a fan of hiding ingredients in my cooking, but I thought about the fact that he likes Caesar salad (which, if you didn't know, has anchovies!), and determined that if I incorporated the anchovies into part of a dish, rather than as a stand alone ingredient, he wouldn't mind it. And I figured that this would be true for many of my Nutritioulicious readers.
That's how I decided to make a dish based around puttanesca sauce, which classically contains anchovies. Rather than using pasta, I decided to get some more vegetables in the dish by using spaghetti squash as the base of the dish, and to get some more protein I added chicken to the sauce. When we sat down to dinner, I asked my husband if he knew what was in the sauce. Little did I know that he saw the can of anchovies that morning – no fooling him! But despite knowing the anchovies were in it, he loved the dish! I hope the same is true for those of you who are skeptical of little fishes!!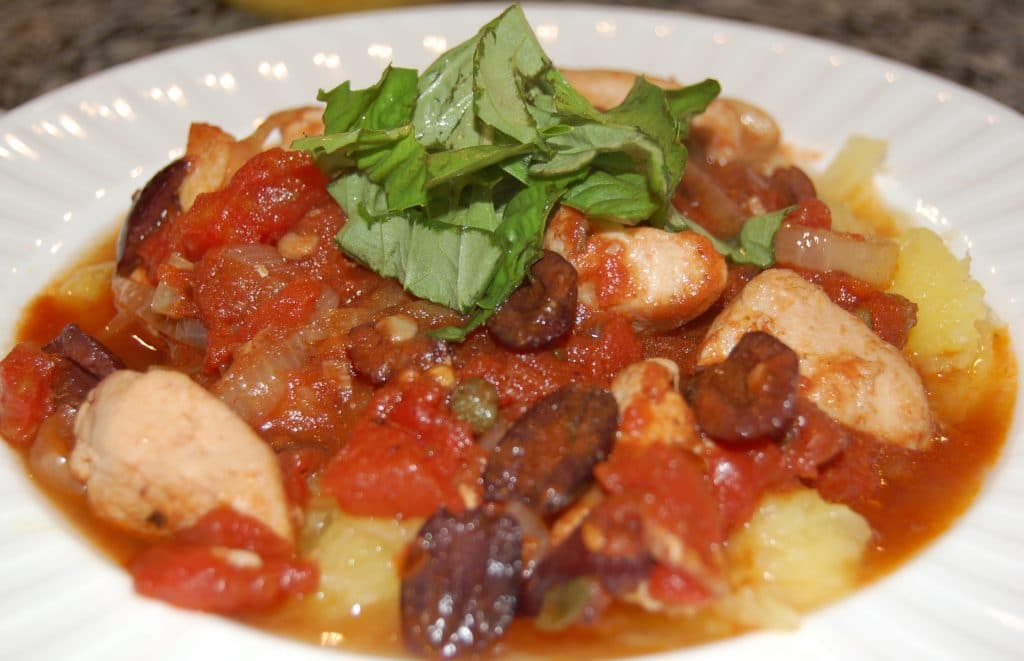 Spaghetti Squash Chicken Puttanesca
Serves 4
Ingredients:
1 spaghetti squash
1 (2-ounce) can anchovies, drained, oil reserved, chopped
6 garlic cloves, chopped
1/2 large onion, sliced into half-moons
1 (28-ounce) can crushed or diced tomatoes
1 pound boneless, skinless chicken breasts, cut into cubes or strips
1 cup pitted kalamata olives, halved
1/4 cup capers, drained
1/2 teaspoon dried crushed red pepper flakes
Fresh basil, torn for garnish
Freshly ground pepper, to taste
Directions:
Preheat oven to 400 F. Roast whole squash on a baking sheet for 30-45 minutes. When done, set aside until cool enough to handle.
In a large skillet, heat the reserved oil from anchovies over medium-high heat. Add chopped anchovies; saute until aroma is released. Add garlic and onion and saute 2-3 minutes. Add chicken and saute another 3-4 minutes.
Add crushed or diced tomatoes, olives, capers, and dried crushed red pepper flakes. Simmer over medium heat until slightly thickened, stirring occasionally, about 10 minutes.
While the sauce is cooking, slice squash in half lengthwise, remove seeds, and with a fork separate the flesh from the skin. It should look like spaghetti. Divide squash evenly among four bowls and top with sauce. Garnish with basil and freshly ground pepper.
Note: I do not advise adding salt to this dish. Anchovies, olives, and capers should give this dish enough saltiness without the addition of the salt shaker!