Oscars in the Kitchen: Ratatouille {Recipe ReDux}
February 21, 2013
The biggest movie event of the year is just three days away – the Oscars. Just like New Year's Eve and Superbowl Sunday are commonly celebrated with parties that revolve around food and watching the tube, so too the Oscars have become an occasion for gathering with friends. In honor of the Oscars, this month's Recipe ReDux theme is
Oscars in the Kitchen
The challenge: create a healthy recipe inspired by your favorite food scene or featured dish from any movie. I honestly haven't seen a lot of movies in the past year and certainly none that bring any recipes to mind, but I did think of a movie that revolves around cooking and food, and I was inspired to make a classic dish – ratatouille.
If you've never seen this Disney hit, here's the basic plot summary for you: "With dreams of becoming a chef, a culinary genius in the form of a rat, makes an unusual alliance with a young kitchen worker at a famed restaurant." Basically it's a bunch of rats cooking in the kitchen. Sort of gross if you think about it, but when it's in a cartoon movie it's adorable. Here's a clip from the scene in which Remy, the star of the movie, makes ratatouille for a restaurant critic.
My version of ratatouille is slightly different from the refined tart-like dish Remy made, but it's the classic way I remember it being made when I was a kid. It's usually made with canned crushed tomatoes, but I decided to make my own tomato sauce this time. Make a pot and serve with some bread and cheese or add in some chicken for a balanced meal. Then sit back and enjoy the show.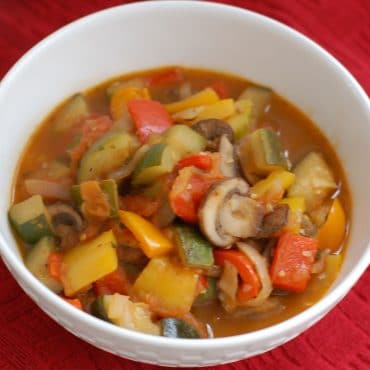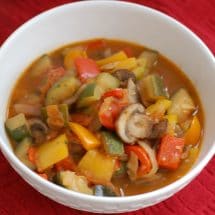 Ratatouille is a traditional French Provençal stewed vegetable dish, originating in Nice.
Total Time
1
hour
10
minutes
Ingredients
3

beefsteak tomatoes

2

tablespoons

olive oil

2

medium onions

sliced into half moons

1

red pepper

cut into chunks

1

yellow pepper

cut into chunks

1

orange pepper

cut into chunks

2

zucchini

cut into chunks

3

cloves

garlic

minced

8

ounces

sliced mushrooms

1

tablespoon

fresh thyme

1/2

teaspoon

dried oregano

1/2

teaspoon

dried marjoram

1/2

teaspoon

Kosher salt

Freshly ground pepper

2

tablespoons

balsamic vinegar
Instructions
Preheat oven to 400 degrees. Line a baking sheet with aluminum foil. Place the tomatoes on the baking sheet and roast for 20 minutes, until the skins are starting to blister and peel off.



Heat a large dutch oven or saute pot over medium high. Add olive oil; add the onions and saute for 5 minutes. Add the zucchini, peppers, and garlic and saute another 5 to 10 minutes.

Add the mushrooms to the pot and cook another 5 minutes.

While the vegetables are cooking, peel the tomatoes and break into chunks over a bowl. It should be the consistency of a chunky tomato sauce.

Add the tomato sauce to the vegetables and mix well. Season with thyme, oregano, marjoram, salt, and fresh pepper to taste. Cook for another 15 to 20 minutes. Stir in balsamic vinegar, remove from heat, and serve.
For some more Oscar party ideas and tips, check out Have a Nutritioulicious Award Winning Party. And for some more movie-inspired recipes, take a look at the roundup of recipes from my fellow Recipe ReDuxers.

');