No-Bake Strawberry Mousse Parfaits
February 13, 2019
No-Bake Strawberry Mousse Parfaits are a light, fluffy, and delicious treat elegant enough for company and easy enough to make for yourself.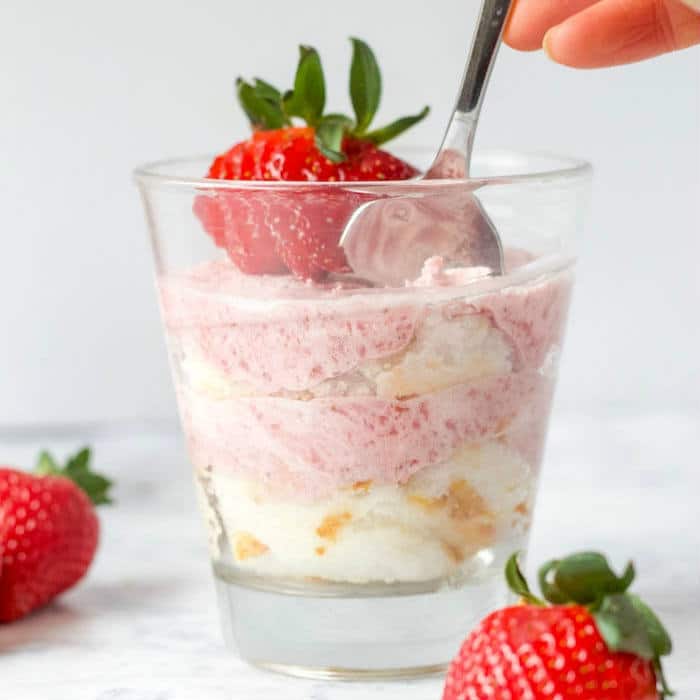 I have a major sweet tooth and love desserts, but you'll notice there aren't too many dessert recipes on my blog. That's because as much as I love to indulge in dessert, I don't like making them.
There's something about the precision required when baking that makes me lose interest – when I'm in the kitchen, I want to be creative and not stick to a specific recipe. It's not so easy to do that when baking, as I have learned numerous times.
But here I am again with a dessert recipe. That's because this month's Recipe ReDux theme is No-Cook Desserts, and since I'm a perfectionist I couldn't give up on the strawberry mousse recipe.

Ingredients & Preparation
Because mousse is made with heavy cream, the calories and fat are high for a rather small portion. Instead of making the mousse healthier (like I tried to do last time), I made the mousse the traditional way, but decided to serve it with angel food cake to reduce the portion of the mousse and make a light, fluffy dessert.
I have to give a shoutout to the man Alton Brown for this idea – I embarrassingly told him about my mousse disaster when I met him a few weeks ago!
This time my mousse came out great! I'm not going to say these No-Bake Strawberry Mousse Parfaits are the healthiest dessert (they're not!), but they sure are delicious! And even better, they're elegant enough to serve at a party and easy enough to make a parfait for one when you're in the mood for a little solo decadence!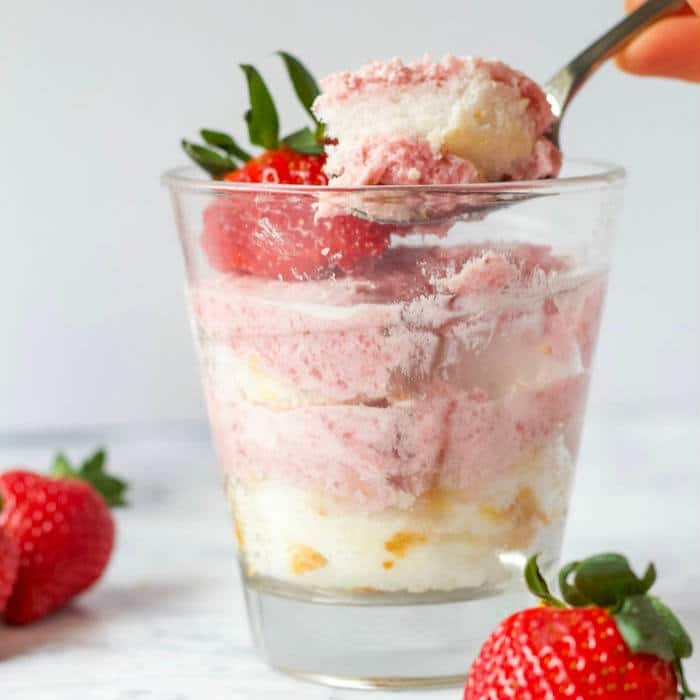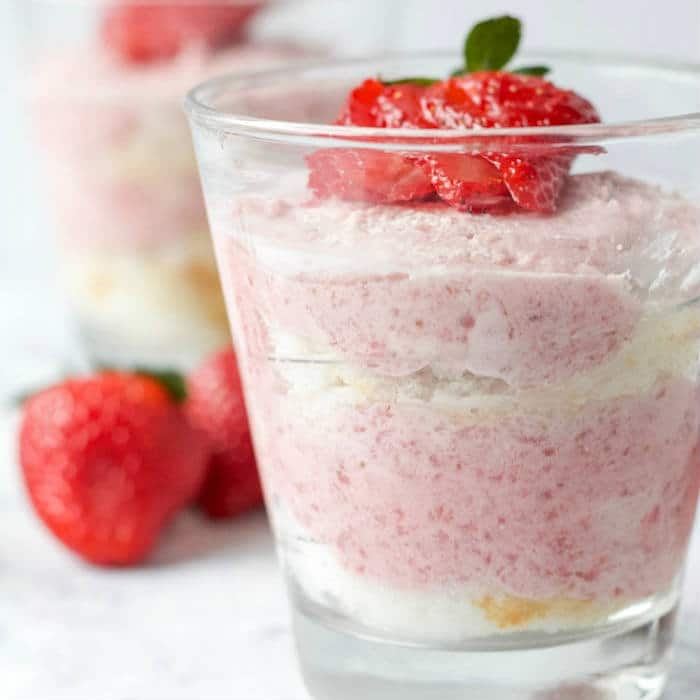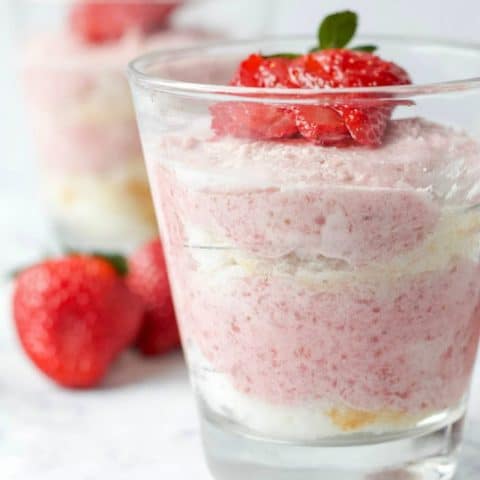 No-Bake Strawberry Mousse Parfaits
Total Time:
1 hour
15 minutes
No-Bake Strawberry Mousse Parfaits are a light, fluffy, and delicious treat elegant enough for company and easy enough to make for yourself. Use fresh or frozen strawberries and a pre-baked angel food cake to save time in the kitchen.
Ingredients
1 envelope unflavored gelatin
1/4 cup water
2 cups sliced fresh or frozen strawberries
1/4 cup sugar
1/2 cup heavy cream
1 ready-made angel food cake
Mint, for garnish (optional)
Instructions
Sprinkle gelatin over 1/4 cup water in a small bowl. Stir once or twice and then let stand about 5 minutes.
Process the strawberries and sugar in a blender or food processor until smooth, stopping to scrape down the sides as needed. (Note: When I used frozen strawberries I could have stopped my no-bake dessert at this step - I had a perfect sorbet - see below!)
Transfer strawberry mixture to a small saucepan and bring to a boil over medium-high heat. Remove from heat. Add gelatin to strawberry mixture, stirring constantly until the gelatin is dissolved. Cover and chill, stirring occasionally, until consistency of unbeaten egg whites, about 30 minutes.
Beat heavy cream at low speed until foamy; increase speed to medium-high and beat until soft peaks form. Fold whipped cream into strawberry mixture until well blended. Cover and chill at least 30 minutes.
Using a round cookie cutter, cut out 1-inch thick rounds of angel food cake. Place one round of cake at the bottom of a highball or parfait glass. Top with 2 to 4 tablespoons of strawberry mousse. Repeat to make a second layer with cake and mousse. Depending on the size of your glass you can make a third layer. Garnish with a sprig of mint if desired.
Notes
Note: Strawberry Mousse recipe adapted from Cooking Light
Do you have a favorite no-cook dessert?
Share with me in the comments below!