National Nutrition Month: Get Your Plate in Shape!
March 7, 2012
By Jo Bartell
March is National Nutrition Month®, and this year's theme is "Get your Plate in Shape!" This is a great topic to think about as we make our way into spring and summer, and we wanted to share some Nutritioulicious tips.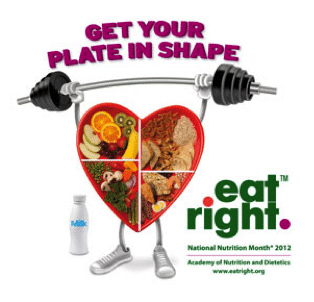 Start with fruits and veggies. As you know, it is recommended to make half of your plate fruits and vegetables using the USDA's My Plate. Filling your plate with dark leafy greens like kale and collard greens, bright orange veggies like bell peppers, and antioxidant-rich berries are the first step to shaping up your plate! The best part about creating a colorful plate is that there are so many fruits and vegetables to choose from, especially as the weather warms up in the Northeast. Head to your farmers market or produce section of the grocery store and investigate some new options.
Add 100% whole grains like whole wheat breads, barley, brown rice, oats, and quinoa. It is very important to read all food labels when buying grains to make sure the first ingredient is a whole grain. There are countless, nutritious and delicious whole grains available with which to experiment — how about amaranth, bulgur, farro, millet, kamut, spelt, or einkorn?
Choose some lean protein. When we hear the word protein, we often think of red meat like steak or hamburgers, but how about trying plant-based sources of protein like tofu, edamame, fava beans, black beans, or adzuki beans. Make sure to add some fish or seafood to the protein section of your plate a couple of times a week. Try grilled salmon or tuna burgers, stir-fried shrimp, or scallops. Poultry is also a great choice for lean protein: remember to trim all of the visible fat and skin.
Go for low-fat dairy! Low-fat or skim milk, 0-2% Greek yogurt, and low-fat cottage cheese are all delicious additions to your plate. Try substituting Greek yogurt for sour cream in your dips or mixing it with berries for dessert. Dairy will give you some great quality protein and it is also high in calcium to help strengthen your body and your bones.
Get your drinks in shape. Part of shaping up your plate should include shaping up your glass too! Be mindful of how many sugar-sweetened beverages you drink, and if you choose fruit juice make sure it's 100% juice. Here is another place where it is so important to read the ingredient label.
Buy new plates! Did you know that eating from smaller plates may naturally help you eat smaller portions? In this month's plate shape up, it is important to pay attention to portion sizes, even when eating healthy foods. Serving yourself and your family on smaller plates will help you fill up nutritious and delicious foods without feeling deprived. Another way to limit portion sizes is to cook at home where you are in charge of what and how much you are eating.
What are some of your tips for shaping up your plate this March?