National Nutrition Month: Eat Right, Your Way, Every Day
March 5, 2013
This post was written by Tiana Yom
Every month there seems to be something to celebrate in the food and health community. February was the American Heart Association's Healthy Heart month and this month is National Nutrition Month®.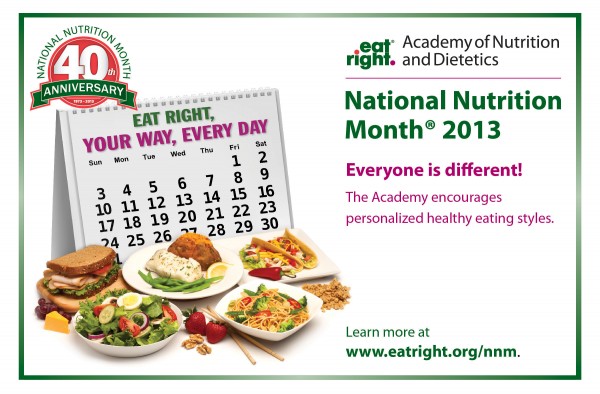 This year marks the 40th anniversary of National Nutrition Month. Since 1973, the Academy of Nutrition and Dietetics (AND) has created a month-long nutrition education and information campaign, National Nutrition Month (NNM), which focuses on informed food choices and sound eating and physical activity habits. This year's theme, "Eat Right, Your Way, Every Day," brings important attention to how personalized lifestyles, food preferences, ethnic and cultural traditions, and health concerns impact daily individual food choices.
Five helpful tips to Eat Right, Your Way, Every Day
Mix up a breakfast smoothie made with low-fat milk, frozen strawberries and a banana.
Keep cut vegetables on hand for mid-afternoon snacks, side dishes, lunch box additions or a quick nibble while waiting for dinner. Ready-to-eat favorites: red, green or yellow peppers, broccoli or cauliflower florets (try blanching them), carrots, celery sticks, cucumbers, snap peas or whole radishes.
Pack more nutrition into your day with a colorful main dish or side salad.
Always eating on the go? Tuck portable, nonperishable foods in your purse, tote, briefcase or backpack for an on-the-run meal e.g. whole wheat peanut butter sandwich, granola bars, a piece of fresh fruit, trail mix, single serve packages of whole grain cereal or crackers.
Become a smart shopper by reading food labels to find out more about the foods you eat.
The AND website provides entertaining educational games like Nutrition Sudoku, Fact or Fiction, and FadDiet Timeline, all of which act as a teaching tool about food and nutrition. To find out more about AND, NNM, and MyPlate, visit the AND website. 
How will you eat right, your way, every day?