Mushroom Tartlets Made with Love
July 20, 2012
A few weeks ago, my husband and I celebrated our third anniversary. There was a lot to celebrate this year – the birth of our twin girls, the building of a new house (yes, we're moving, but not too far from the city!), and of course the love we have for each other. In honor of such a special occasion I decided not only to cook dinner, but also to bake a sweet treat, something I rarely do.
While packing up my cookbooks, I found a recipe for Upside-Down Mushroom Tartlets that I had cut out a few years back from Everyday Food. I made a couple of modifications to the recipe based on what I had in the house (pie crust instead of puff pastry, grated pecorino instead of Gruyère). I also made double the number of tartlets when I realized that my muffin tin had 12 regular-size muffin cups instead of 6 jumbo (as a result I changed the serving size to 3 tartlets per person). I was a little apprehensive about how the tartlets were going to turn out. When they came out of the oven, I very carefully turned them over onto a plate. As I slowly lifted the muffin tin, I saw how incredible they looked. I'm usually very modest, but I have to say they came out great! You can't really go wrong with caramelized onions, mushrooms, cheese, and thyme!
I served them alongside Cucumbers with Lemon and Basil and a glass of champagne.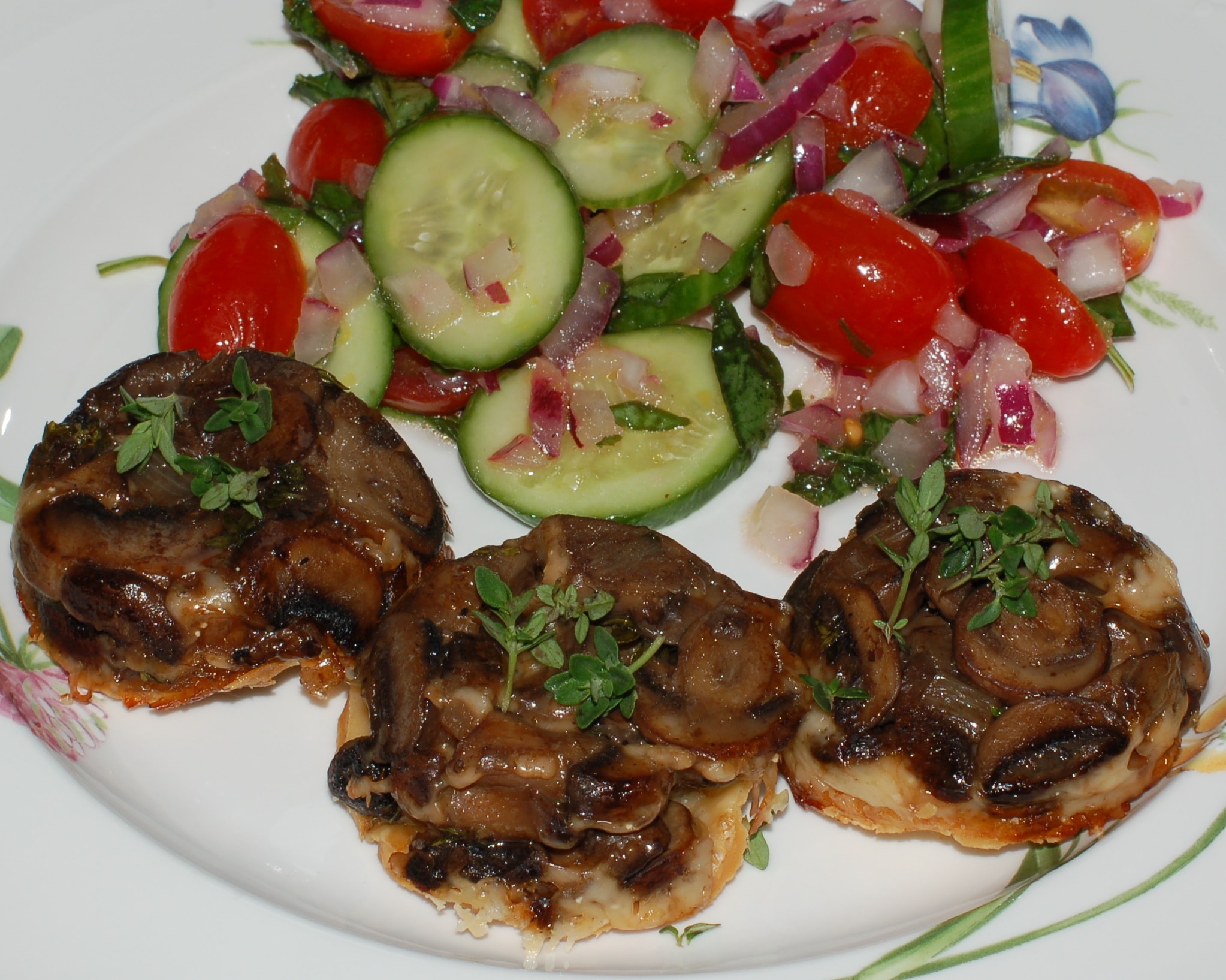 My husband was impressed with the meal – it's definitely going to be added to the repeat file, especially for cocktail parties in our new home!
As for the sweet treat, stay tuned for that recipe. In the meantime, enjoy this mouth-watering picture of the final product. Let's just say, yum!