Menu Plan Monday: Week of September 8, 2014
September 8, 2014
I don't know about you, but I feel fall in the air, which is making me want warming food like soups, stews, and roasted vegetables. This week's menu is inspired by the summer tomatoes left on my kitchen counter and the chilly temps outside.
What are you inspired to cook this week?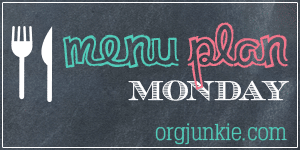 Week of September 8, 2014
Monday: Panko Chicken with Roasted Sweet Potatoes and Rosemary-Roasted Cauliflower with Raisins

Wednesday: Mushroom Onion Frittata with Rosemary Garlic Roasted Tomatoes on Ricotta Crostini
Thursday: Italian Bean Stew
Friday: Off to Blog Brûlée!
What are you eating this week?
Tweet me @JLevinsonRD with #DinnerTonight
Linking up at Org Junkie's Menu Plan Monday.