Menu Plan Monday: Week of September 7, 2015
September 8, 2015
Labor Day has past and now it's back to reality with this week's Menu Plan Monday and Link Love!
Happy September everyone! I know I'm a few days late, but now that Labor Day is over, I've returned from Italy, and my kids start school this week, it's officially the end of summer. When I got off the plane in NY on Sunday evening, the first thing that popped into my head was that song "Back to life, back to reality…" – you know the song I'm humming, right?!
Anyway, back to reality it is and as I am working hard to catch up on emails and all the interesting articles and delicious recipes I missed last week, I'm back with this week's Menu Plan Monday (even though it's Tuesday) and some links I managed to catch while I was away. Stay tuned later this week for an awesome back-to-school roundup filled with articles, recipes, and more that I have pulled together from all around the web. In the meantime, I'll leave you with a picture of our view from our hotel room in Rapallo, Italy along the Italian Riviera. It was definitely a sight to be seen!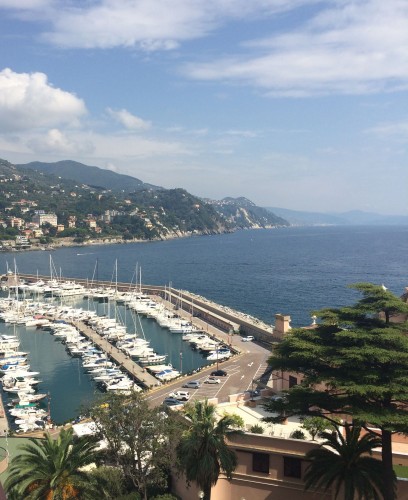 Link Love:
Simple Ways to Cook Healthy Food – Even When You Have No Time @ Erin Palinski-Wade, RD
15 Food-Free Ideas For Classroom Rewards @ Real Mom Nutrition
Quick Meal Ideas for Busy Families @ Nourished Simply
How to Conquer Unhealthy Eating Habits @ Be Truly Nourished
Life Is Why Family Health Challenge @ American Heart Association
What to Eat in September @ My Bottomless Boyfriend
Best Blends – Easy Grab and Go Wild Blueberry Breakfast Smoothies @ Wild Blueberries (the smoothies the RDs and I made on our sponsored Wild Blueberry barrens trip in August)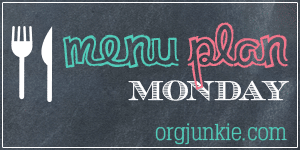 Week of September 7, 2015
Monday: Labor Day
Tuesday:  Thai Peanut Chicken Satay with Thai Citrus Salad and Garlicky Green Beans
Wednesday: Leftovers
Thursday: Pizza Night! Homemade pizzas made on whole grain flatbreads
Friday: Grilled steak with spicy balsamic glaze, Sweet Potato Salad, Grilled peach and spinach salad
Sunday – Rosh Hashana Dinner:  Chicken soup, BBQ Brisket, Grilled Beefsteak Tomato Skewers, Cinnamon Apple Noodle Kugel, Mushroom Onion Barley, and honey cake
How's your first week back to reality?
Anything amazing I missed while I was away?
Tweet me @JLevinsonRD with #DinnerTonight
Linking up at Org Junkie's Menu Plan Monday