Menu Plan Monday: Week of September 30, 2013
September 30, 2013
Hope everyone had a great weekend! We had a beautiful fall weekend here in Westchester, New York. We spent a lot of time outdoors playing on our swingset, walking around our neighborhood, and taking our 21 month-old girls on their first hike! I am so proud of how they did walking up and down rocky terrain for over a mile!! We also had some delicious meals, including a sizzling home-cooked steak dinner and a great night out with friends at The Cookery – one of our favorite restaurants in Westchester.
Here's what's on tap this week!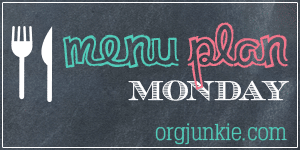 Menu Week of September 23, 2013
Monday: Maple Dijon Chicken with Kale and Sweetpotato Lentil Salad
Tuesday: Shakshuka over Spaghetti Squash
Wednesday: Leftovers
Thursday: Sweet Potato Quesadillas with Guacamole and Arugula Salad
Friday: Roasted Chicken with Oven-Roasted Quinoa with Spiced Apples, Carrots, and Red Onions
What's on your menu this week?
Linking up at Org Junkie's Menu Plan Monday.