Menu Plan Monday: Week of September 29, 2014
September 29, 2014
We've been experiencing a heat wave here in NY! Saturday and Sunday were beautiful days in the 80s, which is lovely and unexpected for this time of year. But thanks to the change of weather, I have a dang cold 😥 . Don't you just hate that?! We went out for Greek food last night and I could barely taste my favorite gigantes and spanakopita. Hopefully my taste buds will be back in time for dinner tonight – I'm experimenting with some new Udi's Gluten Free products. Stay tuned later this week for a sponsored post all about Ancient Grains and the new Udi's goodies!
Also this week, I have not one, but two girls' night out – woohoo! Come Friday, I'll be cooking pre Yom Kippur dinner, which, in case you're not familiar, is a meal that needs to sustain me for 25 hours! (You can learn more about the Yom Kippur fast day here).
What do you eat when you have a cold and can't taste anything?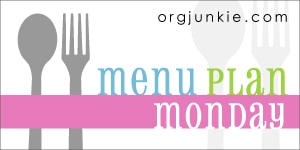 Week of September 29, 2014
Monday: Jalapeño Cheddar Crusted Salmon with Fall Arugula Salad

Wednesday: Shakshuka with a Side of Roasted Broccoli
Thursday:  Girls' Night Out #2
Friday: Pre-fast dinner: Chicken Soup and Roast Chicken with Fennel, Carrots, and Dried Plums over Quinoa
What are you eating this week?
Tweet me @JLevinsonRD with #DinnerTonight
Linking up at Org Junkie's Menu Plan Monday.