Menu Plan Monday: Week of September 28, 2015
September 28, 2015
What I love about October, recipes and articles you may have missed, and this week's menu.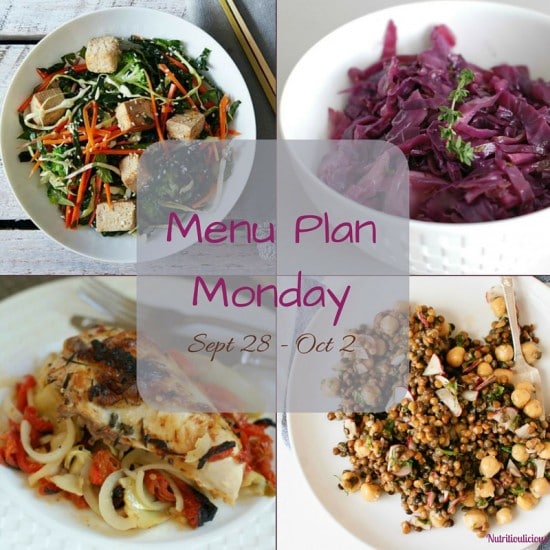 Is Thursday really the start of October?! So hard to believe, especially since I'm still getting use out of my open-toe shoes (these are the important things, right?! Lol, JK!). When I think of October, my mind goes to #AllThingsPumpkin, comfy cozy sweaters and puffy vests, lots of soup, apples and pears, and the annual Academy of Nutrition and Dietetics Food and Nutrition Conference & Expo (FNCE).
The conference is taking place in Nashville this coming weekend, which I am very excited for primarily to connect face to face with my dietitian nutritionist friends, most of whom I only "see" on social media. Plus, Nashville is supposed to be a happening place – in fact, my mother (a big country music fan) is super jealous! Keep your eyes out for all my Twitter, Instagram, and FB shares while I'm there – I can assure you there will be lots of food photos and probably a few new science-based nutrition facts too!
Before I head out of town, stay tuned for a couple of new posts this week. In the meantime, check out some of my fave links from last week and this week's menu plan. Have a great week everyone!
Articles:
When Was the Last Time You Tried Something New? @ Healthy Bites
Saturated Fat: Good, Bad, or Benign? By Caroline Kaufmann @ To Live & Diet in L.A. (I couldn't agree more with what Caroline said: "Life is so much easier when you stop focusing on one nutrient, and look at the whole food package.")
A Call for Lunch Box Sanity by Sally Kuzemchak @ Parents Magazine
Autumn Produce Guide @ The Grateful Grazer
Recipes:
Chocolate Chip Pancake Bread @ Cotter Crunch
Freezer Oatmeal Cups @ Your Choice Nutrition by Dietitian Brittany (such a fun, quick, and easy breakfast for the whole family)
Pumpkin Crumb Muffins with Chocolate @ Healthy Nibbles & Bits
Zucchini Carrot Fritters @ RDelicious Kitchen
Maple Walnut Apple Crisp @ Healthy Ideas Place
Smoked Salmon & Goat Cheese Mini Frittatas @ Marisa Moore Nutrition
Pumpkin Bread Pudding with Tart Cherries @ Love and Zest


Week of September 28, 2015
Monday: Leftovers from Friday (Butternut Squash Soup, Traditional Brisket, Herbed Panko-Crusted Chicken, Quinoa with Spiced Apples, and Rosemary-Roasted Cauliflower with Raisins)
Tuesday:  Maple-Glazed Baked Salmon with Lemony Lentil and Chickpea Salad 
Wednesday: Citrus Ginger Tofu Salad with Buckwheat Soba Noodles (a variation)
Thursday: Off Duty
Friday: Roasted Chicken with Artichokes, Peppers, and Sun-Dried Tomatoes, Braised Red Cabbage with Apples, and Mushroom Onion Barley (leftovers from the freezer)
What are you excited for in October?
Tweet me @JLevinsonRD with #DinnerTonight