Menu Plan Monday: Week of September 1, 2014
September 1, 2014
Labor Day has come and gone, the summer is unofficially over, and most kids around here are heading back to school this week and next. If you've been to the supermarket recently, you may have noticed that despite the humid temps, the produce pickings are changing and your summer favorites are more expensive and less available than just a few weeks ago. As berries and nectarines go out of season, in come pears, apples, and oranges. I for one miss my summer fruits, but all good things must come to an end, right?!
What do you miss the most about summer?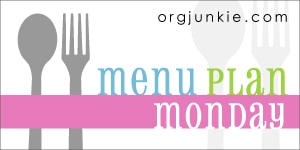 Week of September 1, 2014
Monday: Labor Day!

Tuesday: Grilled Salmon Burgers with Tomato Jam and Artichokes Vinaigrette

Wednesday: Citrus Ginger Tofu Salad with Soba Noodles
Thursday: Dinner out with friends
Friday: Soy-Marinated Flank Steak, Grilled Carrots, Summer Squash, and Red Cabbage
What are you eating for the last unofficial week of summer?
Tweet me @JLevinsonRD with #DinnerTonight
Linking up at Org Junkie's Menu Plan Monday.