Menu Plan Monday: Week of October 12, 2015
October 12, 2015
Some of the latest food trends found at #FNCE, butternut squash everywhere, and a fall menu plan monday.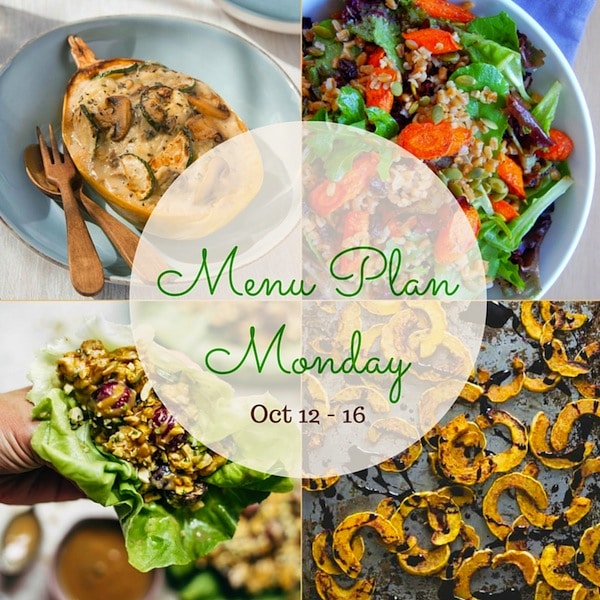 Hope everyone had a great weekend! It was beautiful in NY and we enjoyed some nice outdoor activities including a mini hike on Saturday and a trip to the Bronx zoo on Sunday. I'm still catching up since getting back from last week's Food and Nutrition Conference in Nashville. I haven't fully processed all the new food trends I saw and what I learned while there, but here are a few points I wanted to share:
Disclosure: I attended the National Fisheries Institute #DishOnFish luncheon, but was not asked nor compensated to write about it. I also received samples from many of the food brands at the expo, but no compensation was given for this post and all opinions are my own. 
Eat more fish! Americans are not consuming anywhere near the recommended amounts of fish per week. Increase your intake and aim for 2 to 3 servings of fish per week – that's 8 to 12 ounces. And guess who needs to eat fish the most? Pregnant women and children.

Concerned about mercury? The most commonly eaten ocean fish are lower in mercury and among the richest sources of the antioxidant selenium. According to the National Fisheries Institute and numerous studies conducted at University of North Dakota the high content of selenium in ocean fish counteracts mercury toxicity. Plus, the Scientific Report of the 2015 Dietary Guidelines Advisory Committee (DGAC) agrees that the health benefits of seafood consumption outweigh any of the risks associated with mercury or pollutants in fish.
The fish highest in mercury that should be avoided are tilefish, shark, swordfish, and king mackerel. Still worried about albacore tuna? I'm most excited by the news that I can return to buying canned albacore tuna! The DGAC 2015 report recommends up to 6 ounces of white albacore tuna can be consumed for pregnant and breastfeeding women.

2016 has been named the International Year of Pulses! Lentils, dry peas, and chickpeas are pulses and they were everywhere at FNCE. Nutritionally, they are a vital source of plant protein with at least 7 grams of protein per 1/2 cup serving. Plus, they have more than 7 grams of fiber per 1/2 cup serving. Go beyond hummus and lentil soup with new pastas made with lentils and chickpeas, and roasted chickpeas and lentil and bean chips for snacks.
#LoveYourBones with prunes. Just a few months ago I shared the news that research has shown eating prunes (aka dried plums) supports bone health, especially in post-menopausal women – and all you need is 5 to 6 per day!. Now in honor of World Osteoporosis Day on October 20, 2015, Sunsweet Growers has partnered with the International Osteoporosis Foundation to further raise awareness about the importance of bone health. Check out the site for easy and delicious snack recipes, research and more. Not sure how to add prunes to your meals? Try my Roasted Chicken with Fennel, Carrots, & Dried Plums.
As I mentioned, this is only a small sampling of everything I saw and heard about at the conference. For some more trends that I haven't mentioned here, check out some of the recap posts from my RDN friends:
Deanna & Serena's  FNCE recap
Janet Helm's Nutrition Unplugged 10 Hot Food Trends
Meal Makeover Mom's Food Trends and Nutrition News 2015
Karman's Food & Nutrition Conference Recap at Nutrition Adventures
In the meantime, great links and recipes from last week are below, followed by this week's Menu Plan Monday. Have a great week!
Articles:
Give Peas a Chance: Let's Stop Shaming Vegetables by Janet Helm
Iron and Vegetarian Diets @ The Grateful Grazer
How to Make Brussels Sprouts Your Kids Will Love @ Real Mom Nutrition (FYI, I didn't go near Brussels sprouts as a kid!)
How to Easily Cut, Peel, and Cube Butternut Squash @ Healthy Aperture (One of my fave videos from Regan Jones!)
How to Never Cheat On Your Diet Again @ Avocado A Day Nutrition (I cannot stand the concept of cheat days!)
Does My Kid Really Need a Soccer Snack? by Jill Castle @ Mom's Kitchen Handbook (Another thing that drives me crazy – educators and coaches thinking kids need snacks to refuel after a teeny bit of physical activity.)
Recipes:
Twelve Butternut Squash Recipes @ CalioBlog
Butternut Squash Pasta with Candied Walnuts @ Begin With Nutrition
25 Meatless Monday Dinners for Fall @ C It Nutritionally
Stuffed Crepes with Blueberry Pear Compote @ Your Choice Nutrition by Dietitian Brittany
Vegan Pasta Alfredo with Broccoli @ Nutritious Eats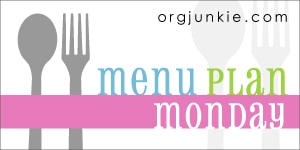 Week of October 12, 2015
Monday: Greek Hummus Flatbread with Greek Salad
Tuesday:  Creamy Miso Peanut Chicken Lettuce Wraps with Roasted Sweet Potatoes
Wednesday: Mom's Night Out! – leftovers for kids and hubby
Thursday: Creamy Spaghetti Squash Noodles with Mushrooms, Zucchini, and Oregano – remaining meal from last week's Hello Fresh delivery
Friday: Lemon Rosemary Chicken with Spice Roasted Delicata Squash and Cinnamon Roasted Carrot and Farro Salad
What food trends have you seen at the supermarket lately?
Tweet me @JLevinsonRD with #DinnerTonight