Menu Plan Monday: Week of November 4, 2013
November 4, 2013
Happy Monday! Hope everyone had a great weekend! Another busy week ahead calls for some (relatively) easy meals on our Nutritioulicious menu.
First up, is a meal based on a dish I recently enjoyed at Jack's Wife Freda – a wonderful SoHo mom-and-pop restaurant that my husband and I happened upon a few weeks ago. The menu is filled with so many delicious-sounding dishes that it was hard to choose. It was also unclear what the overarching cuisine of this little cafe was – the menu included items like Freda's Matzo Ball Soup, Green Shakshuka, and Crispy Sweet-Chili Tofu. The restaurant reviewers over at NY Magazine called it "South African Israeli Jewish Grandmother Cuisine" – quite a lengthy name! We ended up sharing two main dishes, one of which is the inspiration for tonight's #MeatlessMonday dinner: Poached Eggs with Grilled Tomato and Haloumi. As one of my daughter's would say: YUMMY!!!!!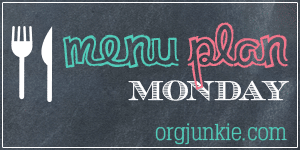 Week of November 4, 2013
Monday: Poached Eggs with Roasted Rosemary Tomatoes and Haloumi
Tuesday: Chicken Satay with Peanut Sauce and Garlicky Green Beans
Wednesday: Leftovers
Thursday: Off duty
Friday: Coconut-Lime Chicken with Roasted Broccoli and Shorty's Brown Rice
Have any restaurant meals inspired your home cooking lately?
Linking up at Org Junkie's Menu Plan Monday.