Sunday Morning Fun & Menu Plan Monday: Week of November 3, 2014
November 3, 2014
Hope everyone had a happy, healthy, safe, and fun Halloween! My girls had a blast trick-or-treating with some of their little friends and collecting candy. Once they went to bed, mommy and daddy had our fill of what they collected 😉  Don't worry, we saved them some! The rest of the weekend was treat-filled too with mini-muffins at brunch Saturday and a birthday party with cupcakes on Sunday.
To balance out all these fun foods, we did our best to make the other meals a little nutritionally sound – apples and grapes for snacks and leftover quinoa casserole for dinner. Plus we had some fun in the kitchen. I had a bowl full of shredded carrots that I didn't use for Friday's moo shu chicken (2 large carrots shredded made a lot more than I needed!), so it was the perfect time to make these Carrot Cake Pancakes, which I came across a few weeks ago from fellow Recipe ReDux participant Marisa at Uproot From Oregon. The girls gave me a hand in the kitchen by pouring ingredients, cracking the eggs, whisking the batter, and setting the table. They were such good helpers!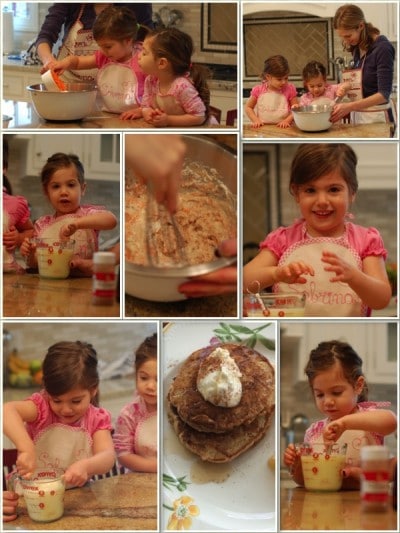 The end result was a Nutritioulicious batch of pancakes, which we served with part-skim ricotta cheese or plain yogurt and some seasonal fruit.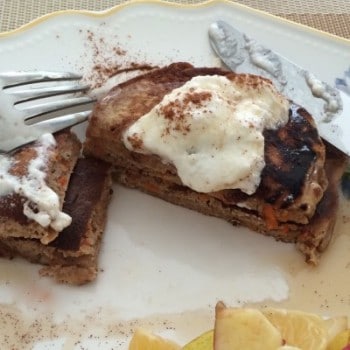 Now to this week's menu!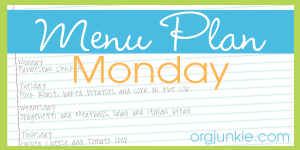 Week of November 3, 2014
Monday: Leftover Moo Shu Chicken and Vegetables over Brown Rice
Tuesday: Miso-Glazed Cod with Chili-Lime Roasted Butternut Squash and Garlicky Green Beans
Wednesday: Vegetarian Chili with Pumpkin Cornbread
Thursday:  Leftovers for the family; I'll be at a Blueberry Council dinner!
Friday: Soy-Marinated Flank Steak with Shorty's Quinoa and Roasted Broccoli and Parsnips
What are you eating this week?
Tweet me @JLevinsonRD with #DinnerTonight
Linking up at Org Junkie's Menu Plan Monday.