Menu Plan Monday: Week of May 6, 2013
May 6, 2013
Last week we had some great weather and started cooking up spring delights in the kitchen. The week didn't go completely as planned and we missed out on our Shakshuka dinner, but hopefully one night this week we'll get to enjoy this popular Israeli breakfast dish  for dinner.
Don't forget – Sunday is Mother's day! Making brunch for any of the moms in your life? Here are some recipes you may want to consider: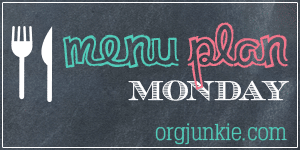 Menu Week of May 6, 2013
Monday: Leftover Spring Beef Stew
Tuesday: Swiss-Chard and Sun-Dried Tomato Calzones

Wednesday: Nutrition event in NYC
Thursday: Shakshuka with Arugula and Fennel Salad
Friday: Grilled Steak with Tomatoes, Scallions, and Leeks
Saturday: Birthday Party
Sunday: Mother's Day!
What's on your menu this week?
What do you have planned for Mother's Day?
Linking up at Org Junkie's Menu Plan Monday.