Menu Plan Monday: Week of March 17, 2014
March 17, 2014
Happy St. Patty's Day and a very special happy birthday shout-out to my sister-in-law Caren who is an avid Nutritioulicious follower and supporter!
Here's what's on tap in the Small Bites kitchen this week. One meal rolled over from last week that I never got to make and another recipe I'm making again in an effort to perfect it to share on the blog later this week!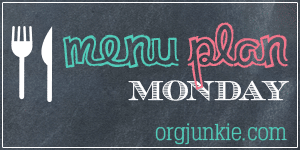 Week of March 17, 2014
Monday: Broccoli, Sun-Dried Tomato, and Cannellini Bean Pasta

Tuesday: Black Bean Cakes with Garlicky Green Beans

Wednesday: TBD
Thursday: Beef Brisket with Parsnips and Carrots, Spicy Roasted Cauliflower, and Mushroom Onion Barley (birthday dinner for my fabulous nanny!)
What are you having for dinner this week?
Tweet me @JLevinsonRD with #DinnerTonight
Linking up at Org Junkie's Menu Plan Monday.