Menu Plan Monday: Week of March 10, 2014
March 10, 2014
You know what made me so happy this morning? I had strawberries in my cereal! That may not seem so exciting, but after a long winter of oranges and pears, I'm ecstatic to see a glimmer of spring and the colorful produce that comes with it! We're not fully out of the woods yet with the cold, but we're getting there, and this week's menu includes another spring favorite of mine – asparagus. With spring coming, another thing I can't wait for is taking walks outside and playing in the backyard with the kids.
What are you looking forward to about the spring?
As I mentioned last week, this month is National Nutrition Month®, with a focus on enjoying the taste of eating right. In case you missed my posts on Twitter, Facebook, and various other social media sites, here is the clip of my segment on The Daily Buzz about the Fresh Express Salad Swap (client) and National Nutrition Month®: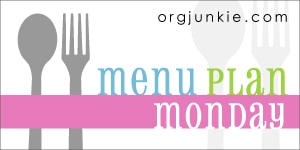 Week of March 10, 2014
Monday: Leftover Thyme Roasted Chicken with Sweet Potatoes and 6-Grain Pilaf

Tuesday: Black Bean Cakes with Roasted Asparagus

Wednesday: Broccoli, Sun-Dried Tomato, and Cannellini Bean Pasta
Thursday: Leftovers
Friday: Chimichurri Strip Steak with Roasted Asparagus 

What are you having for dinner this week?
Tweet me @JLevinsonRD with #DinnerTonight
Linking up at Org Junkie's Menu Plan Monday.