Menu Plan Monday: Week of June 3, 2013
June 3, 2013
This weekend was hot, hot, hot! Hard to believe it's only the beginning of June. I love warmer weather – I much prefer it to the cold of the winter – but the high heat and humidity is exhausting, especially when running after 17 month-old twins! Remember to stay hydrated in this weather – it's more important than usual. Don't forget your fluid intake includes water-rich fruits & vegetables, including watermelon, strawberries, cabbage, peas, cantaloupe, cherries, cucumbers, peppers, and lettuce.
What did you do to stay cool over the weekend?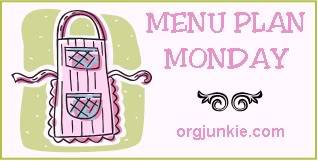 Menu Week of June 3, 2013
Monday: Pasta Salad with Feta, Snap Peas, and Tomatoes
Tuesday: Barley and Spring Onion Soup with Fava Beans

Wednesday: Asparagus, Leek, and Tomato Frittata
Thursday: Off duty
Friday: Cilantro-Lime Steak with Sweet Potato Salad
Saturday: Off Duty
Sunday: Leftovers
What's on your menu this week?
Linking up at Org Junkie's Menu Plan Monday.