Menu Plan Monday: Week of June 23, 2014
June 23, 2014
Apologies for my absence – it's been a while since I posted my Menu Plan Monday. The last couple of weeks of May were hectic and then I was in Spain for a week, but now I'm back in the swing of things and ready to get cooking again. This week we'll be having some of our family favorites (fish tacos) and some seasonal repeats (fava bean pasta, grilled steak). And in case you missed it, check out my June Recipe ReDux post with a roundup of some of my favorite recipes made with edible flowers!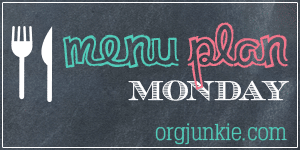 Week of June 23, 2014
Monday: Fish Tacos with Mango Salsa, Guacamole, and Spinach Salad with Jicama, Black Beans, and Lime Vinaigrette
Tuesday: Fusilli with Fava Beans, Asparagus, Ricotta & Mint
Wednesday: Leftovers
Thursday: Off Duty
Friday: Soy Marinated Steak with Grilled Grape Farro Salad and Grilled Garlicky Green Beans
What are you having for dinner this week?
Tweet me @JLevinsonRD with #DinnerTonight
Linking up at Org Junkie's Menu Plan Monday.