Menu Plan Monday: Week of June 10, 2013
June 10, 2013
I finally got to one of the local farmers markets this weekend! It's one of my favorite activities – I love seeing, smelling, and tasting (when there are samples) the local, farm-fresh produce and baked goods. It's also a great way to learn what's growing and in season near you. I found some beautiful spearmint, kale, arugula, red lettuce, radishes, and sweet strawberries. There were so many other greens that looked great – baby bok choy, spinach, collard greens, and an Asian green I've only had once before, tatsoi. I'll have to go back when I'm doing more cooking – this week's not a busy one in my kitchen.
Do you shop at farmers markets? If so, what's your favorite part?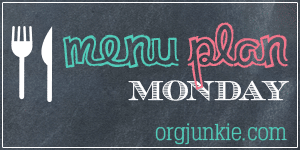 Menu Week of June 10, 2013
Monday: Snap Pea, Radish, and Mint Salad and Flatbread Pizza with Kale Pesto, Tomatoes, and Mozzarella 

Wednesday: Roasted Chicken, Asparagus, & Grapes over Mixed Greens with Lemon-Mint Dressing
Thursday: Off duty
Friday: Off Duty
Saturday: Out for my husband's birthday!
Sunday: Father's Day BBQ
What's on your menu this week?
Linking up at Org Junkie's Menu Plan Monday.