Menu Plan Monday: Week of July 6, 2015
July 7, 2015
Cherries, summer cocktails, meatless barbecue recipes, and this week's menu plan Monday.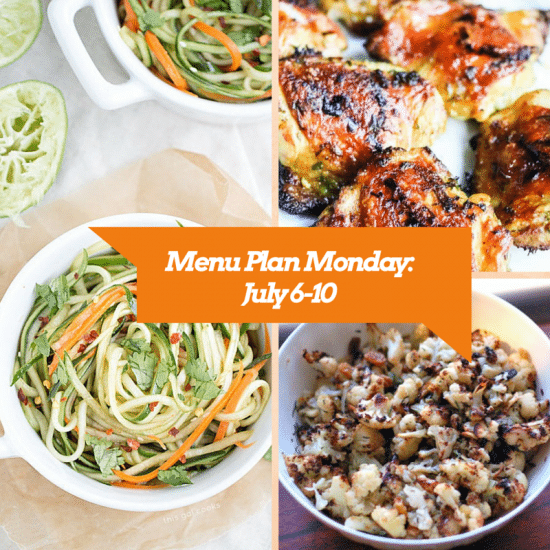 I know it's not Monday anymore, but this past weekend was crazy so I'm a little late in posting my weekly menu plan and link love post. I'm sure you've all been wondering what we're eating this week in the Nutritioulicious house and what my favorite reads and recipes were from last week, so I'll keep this brief and get right to it. Hope everyone had a great holiday weekend and enjoyed some food, fun, and fireworks!
Articles:
The Vegetable Butcher @ The Kitchn (love this new column!)
How Mindful Eating Can Help You Fall In Love With Food by Rachael Hartley @ The Foodie Dietitian
Nutrition Spotlight: Summer Cherries @ Be Truly Nourished
Introducing New Flavors to Kids by Dr. Sonali Ruder, The Foodie Physician
What Dietitian's Are Drinking This Weekend by Keri Gans (RD approved cocktails for all summer long)
Recipes:
Cucumber Noodles + Spicy Sesame Soy Dressing @ This Gal Cooks
Tex-Mex Migas with Spicy Sweet Potatoes and Black Beans @ The Lean Green Bean
Cherry Almond Chicken Salad Sliders by Mom to Mom Nutrition @ Healthy Aperture
Mini Wild Blueberry Cream Pies by Danielle Omar @ Wild Blueberries
25 Meat Free July 4th BBQ Recipes @ C it Nutritionally (great for all summer long)
Lemon Raspberry Mojito with Muddled Blueberries @ Food Faith Fitness

Week of July 6, 2015
Monday: Spring veggie and bean stew served over quinoa
Tuesday: Grilled Thai Curry Cilantro Garlic Chicken with Rosemary-Roasted Cauliflower with Raisins and Grilled Sweet Potatoes (rolled over from last week when I didn't get to make it)
Wednesday: Leftovers
Thursday: Egg dinner – TBD
Friday: Grilled Coconut Lime Chicken, Soy Marinated Flank Steak, Corn on the Cob, and Cucumber Salad (a non-spiralized version of the recipe linked above)
What was the best part of your holiday weekend?
What's on your menu this week?
Tweet me @JLevinsonRD with #DinnerTonight
Linking up at Org Junkie's Menu Plan Monday