Menu Plan Monday: Week of July 27, 2015
July 27, 2015
A rough week with the kids, summer produce recipes, links you'll love, and this week's menu plan.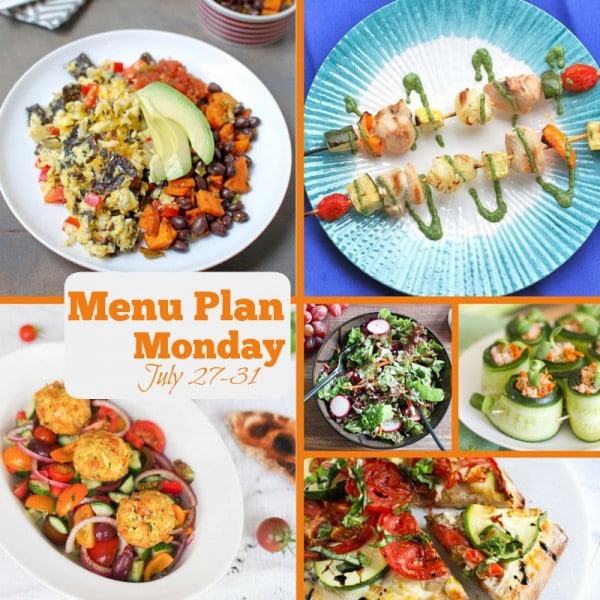 Hey everyone! Hope you all had a good weekend. Last week was a doozy – we had a visit to the ER Monday night after one of my daughters fell from a swing set at a play date (thankfully she's ok, but the pediatrician wanted to be extra safe), Wednesday night my other daughter had 103 fever, and I've been plagued with migraines for multiple days in a row. When I saw my friend Katie's blog post on Friday, 5 Wines to Handle Your Child's Whines, I couldn't help but laugh out loud! Hopefully this week will be a little less chaotic in our house (and Katie's too!).
In case you missed it, last week I shared my Recipe ReDux post for July – Greek Zucchini Pie, a summery version of the traditional Spanakopita dish. If you grow your own fruit and/or vegetable garden or frequent a farmers market, you won't want to miss the linkup of recipes. So many amazing dishes made with the season's best and freshest produce, especially zucchini! I even have a couple of those recipes included in this week's menu below! But before you scroll down, don't miss this week's link love.
Articles:
16 Tips to Pack a Healthier (and Safer) Picnic by Caroline Kaufman @ LiveStrong.com
In Defense of the Supermarket Dietitian @ Zen and Spice
Food Fears: Admitting Uncertainty is Hard @ Chew the Facts
Where to Store Fruits and Vegetables @ Eating Made Easy
Are You Being You? A Discussion About Work-Life Balance @ Make Healthy Easy
Healthy Baking Substitutions @ Your Choice Nutrition by Dietitian Brittany
7 Dinner Rules That Will Transform Your Family's Mealtime @ Raise Healthy Eaters
Recipes:
Beluga Lentil and Watermelon Caprese Salad @ Uproot from Oregon
Mediterranean Spiced Vegetable Flatbread @ 24 Carrot Life
Fresh Watermelon, Basil, and Feta Bites @ Eating With a Purpose
Lemony Zucchini Noodles with Mint and Parmesan @ My Cape Cod Kitchen
Pistachio-Crusted Chicken Salad with Carrot Ginger Dressing @ Healthy Nibbles and Bits
Mediterranean Farro Bowls @ Craving Something Healthy
Wild Blueberry, Pomegranate, and Lemonade Paletas @ Abbey's Kitchen
Raspberry Sorbet @ Real Food Real Deals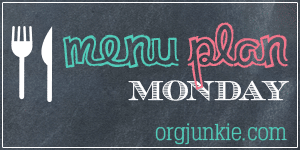 Week of July 27, 2015
Monday: Tex-Mex Migas with Spicy Sweet Potatoes and Black Beans (rolled over from last week) and Red Salad with Lemony Vinaigrette
Tuesday:  Dinner out; making these Salmon Cucumber Rolls for the kids
Wednesday: Zucchini Chickpea Balls with Chopped Greek Salad
Thursday: Garden Fresh Ricotta Pizza and side salad
Friday: Grilled Chicken Breast with Herb Sauce, Chili Lime Corn, and Cauliflower Tabbouleh (made with grilled carrots & zucchini)
What's on your summer to-do list?
Tweet me @JLevinsonRD with #DinnerTonight
Linking up at Org Junkie's Menu Plan Monday