Menu Plan Monday: Week of July 21, 2014
July 21, 2014
Menu Planning Tip: A good way to design your menu is to base it on perishable ingredients you have on hand that you don't want to waste.
I'm heading out of town next week, so this week's menu is designed with the above tip in mind – afterall, I can't let cilantro, tomatoes, corn, and summer squash go to waste! A couple of meals you may have seen before, and if not, now's the time to take a look (in particular, check out Tuesday's menu)! Some of the other meals are a combination of recipes I have recently found that sounded interesting – like Mark Bittman's Tofu Chorizo, which I'm hoping my husband will find a good sub for the real thing since we keep a Kosher home! By the time Friday comes, I'll be ready for a night off from cooking, which will also prevent us from having leftovers spoiling in the fridge while we're away!
What seasonal ingredients do you have on hand that inspire you're weekly menu?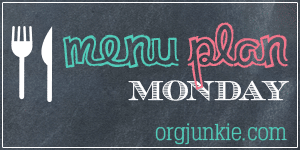 Week of July 21, 2014
Monday: Weekend Leftovers! Soy Marinated Flank Steak, Coconut Lime Chicken, Turkey Burgers with Tomato Jam, Shorty's Quinoa, and Grilled Corn, Basil, and Tomato Salad

Tuesday: Corn & Basil Cakes with Lemon Yogurt Sauce

Wednesday: Tofu Chorizo with Sesame Peanut Cucumber Salad
Thursday: Zucchini Black Bean Quesadillas with Guacamole and Chipotle Salsa (a seasonal variation on my Sweetpotato Black Bean Quesadillas)

Friday: Take Out
What's on your dinner menu this week?
Tweet me @JLevinsonRD with #DinnerTonight
Linking up at Org Junkie's Menu Plan Monday.