Menu Plan Monday: Week of July 20, 2015
July 20, 2015
Summer desserts Pinterest board, #MomRDChat Twitter chat, #LinkLove, and this week's Menu Plan Monday!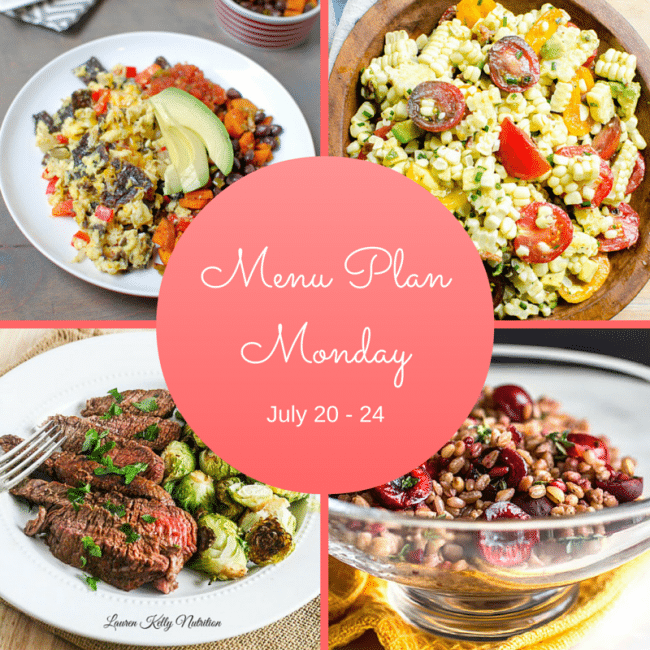 Happy Monday everyone! Things are getting a little back to normal here – at least until the craziness of August arrives. Speaking of which, I can't believe we're nearing the end of July. Why does the summer always go by so fast?! I don't get it! There's always so much I want to do over the summer months and it's nearly impossible to make it all happen. For example, I have been collecting recipes for summer desserts and sweet treats and have only made popsicles once! That needs to change – especially since this week it's almost 100 degrees in NY!
On the bright side, last week I managed to share with you all my Fresh Salmon Ceviche with Cucumbers and Radishes and it received some great feedback. Thanks to everyone who commented and shared it across social media. In case you missed it, I also posted my recipe from the July issue of Today's Dietitian Magazine: Summer Chicken Kebabs with Herb Sauce. With herbs in full bloom, now is a great time to make this recipe.
Before we get to this week's great list of reads and recipes, I want to let you know about a Twitter chat I'm co-hosting tomorrow at 12 pm ET with my colleague and friend Laura Cipullo from Mom Dishes It Out. Laura and I met years ago when I was still working in private practice and counseling patients with eating disorders. Laura is a fabulous RD, Certified Diabetes Educator, and author of Healthy Habits, which is filled with kid-friendly nutrition lessons for parents and educators. Please join us for a #MomRDChat Lunch n' Learn about kids nutrition. Make sure you're following Laura @MomDishesItOut and me @JLevinsonRD!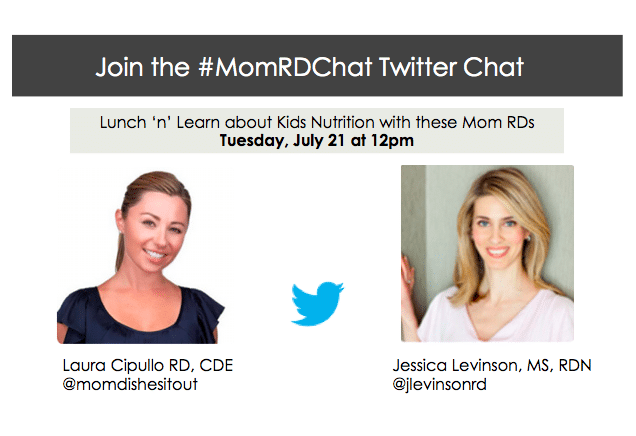 Now for some Link Love!
Articles:
Vacation Fitness @ Nourished Simply
How to Eat Healthy at Family Events @ Avocado a Day Nutrition
Dietitians Eat "Bad" Foods Too @ Zen and Spice (please help spread the word that foods shouldn't be classified as "good" and "bad")
Are Health Foods Making You Fat? @ US News Health
How to Make Whole grain Salads @ Teaspoon of Spice
The Trouble with Concession Stands in Youth Sports by Jill Castle @ Real Mom Nutrition
Recipes:
Grilled Peach Caprese @ Eating Made Easy
The Easiest Chickpea Salad Sandwich @ Happy Healthy RD
Strawberry, Peach & Avocado Feta Bruschetta @ The Nutritious Kitchen
Grilled Cantaloupe Salad with Blueberry Ginger Vinaigrette @ Make Healthy Easy
Chocolate Covered Cherries @ The Pretty Bee
Lightened Up Frozen Chocolate Pie @ Chocolate Slopes
Blackberries and Cream Popsicles @ The Pretty Bee

Week of July 20, 2015
Monday: Tex-Mex Migas with Spicy Sweet Potatoes and Black Beans and Radish Snap Pea Salad with Lemon Mint Vinaigrette
Tuesday:  Chipotle Beef Tacos with Guacamole and Watermelon Salsa
Wednesday: Lemon Ricotta Ravioli with Balsamic Strawberries
Thursday: Leftovers (if there are any!) or take out
Friday: Ginger Teriyaki Steak with Roasted Corn and Summer Tomato Salad and Farro Pilaf with Balsamic Cherries
What's on your summer to-do list?
Tweet me @JLevinsonRD with #DinnerTonight
Linking up at Org Junkie's Menu Plan Monday